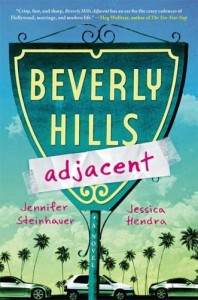 Everyone knows that TV shows, movies and celebrity gossip rot your brain. We here at TVOvermind care about your brains, which is why we're going to class things up and bring you book reviews. Book reviews for books about the TV/movie industry and celebrities. Because it doesn't destroy your brain if it's in print (note: not yet scientifically proven).
Our first book is Beverly Hills Adjacent (St. Martin's Press, 2009). Written by Jennifer Steinhauer and Jessica Hendra, the book focuses on a married couple, Mitch Gold and June Dietz, and takes place during pilot season in Hollywood. Mitch is a moderately successful character actor who is always playing the part of the boss, the friend, the cop or the dad, but never really the star. Mitch's latest show has been cancelled by the network and he sets out to navigate the treacherous waters of yet another pilot season. June is a poetry professor at UCLA and, as a working mother, is not really popular with all of the other Hollywood wives.
If this book accurately portrays pilot season (and I believe it does), then I'm glad I'm sitting here at my desk and not trying to make it big in Hollywood. Pilot season is exhausting. Filled with endless readings before casting directors and network bosses, running lines, scheming, blackmail, frequent calls to your agent, disappointment and constant pressure to land something that will last long enough so you don't have to go through another round next year. This is what Mitch endures throughout the book. Because of the constant pressure – or perhaps because of his somewhat inherent selfishness and paranoia – Mitch has been neglecting June and driving her crazy in equal measure. He's more concerned about the size of the couch in his trailer and getting his agent to negotiate a gym membership in his contracts. She's worried about getting tenure and missing her friends back home in New York.
Enter Rich Friend, one half of a successful husband and wife writing team, who's shows get picked up by the network. Rich is handsome, intelligent and interested in poetry, so June is attracted to him. And thus begins their affair (don't worry, this isn't a spoiler….it's in the official press release from the publisher). What comes after is guilt, paranoia and an attempt to discover what is fake and what is real in a world where no one seems genuine.
Beverly Hills Adjacent is populated with funny and crazy characters, including Mitch's arch-nemesis Willie Dermot and his harpy of a wife, Larissa, who schemes to move her husband up the fame ladder. Then there's the the selfish Hollywood mothers, who criticize June for neglecting to spend every moment with her daughter, Nora, while they lunch, shop and leave their children with nannies. Real actors make appearances every now and then (mostly in the background at parties or as Mitch's rivals for roles) and we see an endless parade of network executives, casting directors, writers, producers, directors and co-stars.
The book creates a real and densely populated world, filled with complex characters. It's an inside look at the fame game of Hollywood and the marriage of two people who are both trying to achieve vastly different things in their life and can no longer connect. It's also a look at what it takes to succeed in an industry where it appears everyone is out for themselves and is willing to step over their own mother to achieve fame. Overall, the book is a good read and is highly recommended.
Email me at clarissa @ tvovermind.com
Follow me at twitter.com/clarissa373

[Image belongs to St. Martin's Press]