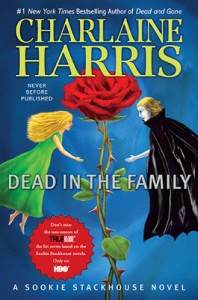 The "Sookie Stackhouse Novels", written by Charlaine Harris, are the basis for the hit HBO show, True Blood.
This much anticipated 10th book in the series picks up where we last left our dear Sookie Stackhouse: dealing with the aftermath of the Fae battle as well as dealing with her ever burgeoning sexuality.
While this last aspect was mentioned secondary, it is by no means an afterthought. In fact, ever since vampire Bill Compton opened the floodgates, it appears to be a recurring theme with Sookie. Not to be a prude, but it looks like Sookie has been making up for lost time and, as some readers of the books may remember, she is currently embroiled in a passionate relationship with the local vampire sheriff Eric Northman. Perhaps "relationship" is not the adequate descriptor as Sookie is still coming to terms with having been duped into a vampire marriage by her lanky Scandinavian beau. But as this most recent novel would indicate, Sookie is soon learning that being the sheriff's bride has its definite advantages.
Unfortunately, the honeymooners aren't given too much time to bask, as both vampire intrigue and werewolf intrigue abound. This intrigue takes the form of attempted power grabs, but naturally include a generous helping of Sookie along the way.
In addition, DEAD IN THE FAMILY provides more information with respect to the mysterious Eric Northman's background. Being an ardent fan of the hit HBO series 'True Blood', I often get the series and the Sookie Stackhouse novels confused. But they are two distinct realities and in the Sookie Stackhouse reality, Eric's maker is not the little vampire Godric as depicted on TV. In fact, Eric's maker is an ancient vampire with a penchant for formality only eclipsed by his disdain for the Bolshevik revolution. Without wanting to divulge too much, there is a family reunion of sorts in the book and Eric is introduced to a new sibling as well as being reacquainted with his long lost maker. Like most family reunions, Eric's family reunion doesn't go too smoothly. But unlike my most recent debacle, his has nothing to do with salmonella poisoning of the potato salad.
Not to be outdone, Sookie is also partaking in a bit of a family reunion as her half-first cousin once removed (try saying that one ten times), Claude, moves in to the family abode. Never being one to take very much interest in Sookie, as this would take time away from devoting to himself, this naturally leaves the reader with an uneasiness that is only resolved as the novel and all of the characters'intertwined stories reach a proverbial head.
DEAD IN THE FAMILY was released today and is available at Amazon.
Sookie is hurt and angry following the War. Many of her friends are wounded or even dead, and while the door to Faery is closed, some Fae were left trapped in the human world.

The implications of the Shifters coming out are starting to be felt, and as a friend to the Shreveport pack, Sookie gets drawn into the debate more than she'd like to be. To make matters worse, the only good thing in her life right now is her burgeoning relationship with vampire Eric Northman. She thinks she loves him, but the Vampire King doesn't necessarily approve. But worst of all, Sookie learns that one of the Fae trapped in her world is hunting her.