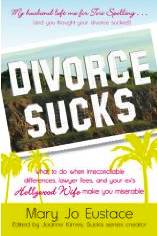 I read Tori Spelling's first autobiography in an emergency room (long story….don't ask), so I thought it only fair to get the other side of the story from the woman who used to be married to Tori's second husband: Mary Jo Eustace. Coincidentally, Mary Jo wrote a book entitled 'Divorce Sucks: What to do When Irreconcilable Differences, Lawyers Fees, and Your Ex Husband's Hollywood Wife Makes You Miserable'(Adams Media, October 2009).
I thought that Divorce Sucks would be a tell-all, much in the same fashion as Tori's book. However, Divorce Sucks is much, much more, and probably not what I expected at all.
Mary Jo is a fellow Torontonian, who moved to California with her then husband, Dean McDermott, when he wanted to become an actor. Married for thirteen years, the two had one son, Jack, and were in the process of adopting a baby girl when Dean unceremoniously left Mary Jo to marry Tori, who he had met on the set of a made-for-TV movie. According to the press release for the book, the movie shoot lasted only three weeks. At the time, Tori was also married, but these silly details didn't seem to bother the two love-birds, who both left their marriages and settled in for mediocre fame and a reality TV show.
Mary Jo is not too fond of her ex husband and I honestly can't say that I blame her. What Dean did was not cool (in the immortal words of another jilted wife – Jennifer Aniston). In the book Mary Jo talks about the vacation when Dean announced he was leaving her for Tori, as well as discussing their subsequent divorce, including meetings with lawyers, custody arrangements and her first meeting with Tori Spelling (funny how both women have entirely different recollections of the meeting). But what might surprise you is that this book is really a self-help book for mothers going through a divorce.
Mary Jo is obviously a strong woman. She understands the tragedy of divorce and encourages readers to embrace the pain. But then she wants you to get off your ass and work through it. From what to tell your children to taking care of yourself to re-entering the dating scene, Mary Jo tackles every possible stage of divorce as if she was calling you up every day to offer pointers. Interspersed throughout her advice are details of her own experiences.
There are parts of the book that can be a bit repetitive, but overall Divorce Sucks is a refreshing look at how to work through a traumatic experience in your life. It's true that some women may not be able to relate to Mary Jo. Not every mother will be able to afford an expensive Hollywood lawyer, nor will they be offered radio hosting gigs to bring in money or have their private lives splashed across the pages of Star and US Weekly. But there are common traits that everyone can relate to: the pain and disappointment of a failed marriage, a mother fighting for her children, and the awkwardness of losing friends who side with your ex-spouse.
For any woman who is going through a divorce, you should read this book and know that you aren't alone.
Email me at clarissa @ tvovermind.com
Follow me at twitter.com/clarissa373
[Book image belongs to Adams Media]