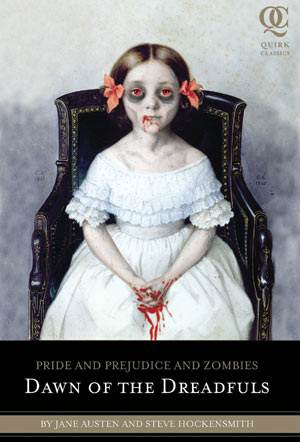 Here at TVOvermind, we usually don't do book reviews. However, sometimes there comes a work of literature that sets off our geek alarm off. Take, for instance, Pride and Prejudice and Zombies. It appealed to both our classical sense, and also our giddy childish glee at watching hoardes of the undead tear people apart. It's not often that happens.
If you haven't read the original Pride and Prejudice and Zombies, I seriously recommend that you do. Not only is a masterfully written piece of regency literature by Jane Austen, but it's also full of masterfully written fight scenes of a martial arts-trained Elizabeth Bennett killing zombies in between (and sometimes during) her courtship with Mr. Darcy. Seth Grahame-Smith managed to craft one of the most unique works of horror literature out of one of the most classic works of romance literature, while maintaining the nuances of the original text.
Pride and Prejudice and Zombies: Dawn of the Dreadfuls (which hits bookshelves on March 23) doesn't have to do all that. In fact, it's the first book from Quirk Classics that is completely original. There is no borrowed or adapted text, as was in PPZ and Sense and Sensibility and Sea Monsters. Instead, it's all written by Steve Hockensmith from start to finish.
Dawn of the Dreadfuls serves as the prequel to the first book, and it details the rise of the "unmentionable" zombies from their graves, and the story of Elizabeth Bennett as she learns how to defend herself against these horrible creatures. It's a fantastic read, and perhaps most interestingly, it retains the same feel as Pride and Prejudice. Hockensmith is fully emulating Austen, and he does incredibly, even when he has depictions of Elizabeth approaching a zombie while swinging a pair of nunchucks around her (if you don't want to read this book already, something's wrong with you).
From the brilliant opening line ("Walking out in the middle of a funeral would be, of course, bad form. So attempting to walk out of one's own was beyond the pale,") to the closing that leads into the original, the book is a well-written exercise in the new skewed classics that Quirk has made so famous (they claim themselves the title of "Masters of Our Public Domain").
What's next for Quirk? Well, in May, they'll be moving out of the world of Austen and into the world of Tolstoy, with Android Karenina. TVOvermind will also be reviewing that in April.
And now, there's a little something in it for you. As part of Quirk Classics' marketing scheme for Dawn of the Dreadfuls, they are including a contest for you, the readers of TV Overmind, to win one of 50 Prize Packs. All you have to do is go to the PPZ:DoD Review Page on the Quirk Classics website and mention this review, and you'll be automatically entered to win. Prize packs consist of:
An advance copy of Dawn of the Dreadfuls
Audiobooks of Pride and Prejudice and Zombies and Sense and Sensibility and Sea Monsters
A password redeemable online for sample audio chapters of Dawn of the Dreadfuls
A Dawn of the Dreadfuls poster (the book cover blown up to poster size)
A Pride and Prejudice and Zombies Journal
A box set of Pride and Prejudice and Zombies postcards
Pride and Prejudice and Zombies: Dawn of the Dreadfuls hits shelves on May 23. If you enter the contest, maybe you'll be able to get it a little sooner, so you can enjoy it just as much as I did.