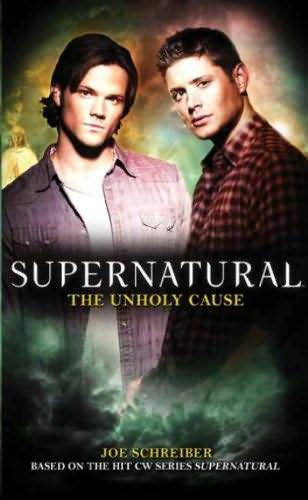 Supernatural is a show that, while only receiving moderate ratings, has managed to successfully move on to the literary medium. That's usually easier said than done; most TV watchers aren't avid readers. And even then, it's even more difficult for literary spin-offs to actually be good (case in point – LOST's spin-off Bad Twin, which even executive producers Damon Lindelof and Carlton Cuse have expressed disdain for).
However, Supernatural's latest book, subtitled The Unholy Cause, isn't that bad. Having only been a furtive watcher of the series, I was unfamiliar with the characters and mythology of Supernatural. However, not once did I scratch my head and wonder what was going on. The book is written so that even non-watchers can get into the story, while throwing in furtive references to the show's mythology (i.e. the character Castiel) that aren't too distracting from the book's main storyline.
That storyline is, like most of the Supernatural I've seen, set in the south. This time the main case revolves around the sudden appearance of a real Civil War general in the middle of a reenactment. After he accidentally kills a civilian participant (whom he believed was an actual Union soldier), he utters the words "War is hell," and bayonets himself in the brain.
That's when Sam and Dean Winchester get called in to investigate. What follows is a typical, solid story that features perhaps a few too many wisecracks from the brothers. That's really my only complaint about the novel; Sam and Dean only seem to have two modes: witty and contemplative, with no in-betweens. As such, the Winchesters (or any other characters, for that matter) aren't really developed in the book, but they do make really good plot devices.
All in all, the book plays like what I would presume is a normal episode of the series. There aren't any groundbreaking revelations; it's a simple case, start-to-finish. Does that mean it isn't entertaining? Of course not. Just because it's not heavy reading doesn't make it a bore — the book is quite a lot of fun to read. Don't expect to think much while you read it, but expect to enjoy yourself.
Supernatural: The Unholy Cause hits shelves on May 4.The book is written by Joe Schreiber (Star Wars: Death Troopers), and is published by Titan Books. You can pre-order the book from Amazon
. Also, look out for the next Supernatural novel, War of the Sons
, which is out on August 24.