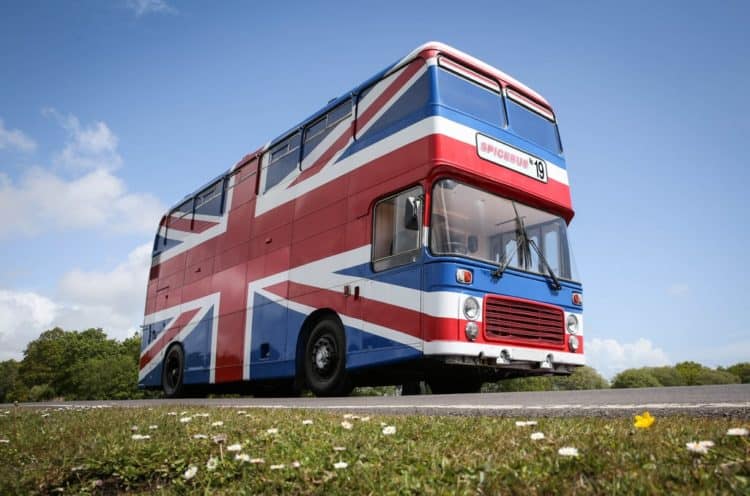 If you ever had the inclination to recreate the 90s for a night or so and wanted to know one of the perfect ways to do it, Danielle Jackson from Popsugar seems to have found one very popular way to relive a few of the glory days. The tour bus from Spice World is now available on Airbnb and for a few people, three maximum in fact, there are a couple of nights out of the year that they can enjoy the 90s once again in this brightly decorated bus that was featured in the less than well received Spice World. Despite that little tidbit there are plenty of people that would love to take a go at this opportunity and could for around 99 pounds a night. There are some ground rules to abide by as well such as no pets and no smoking, and of course Girl Power is a big thing that's pushed for this sort of experience. But for those that saw the Spice Girls as a big inspiration and had a lot of fun during the Girl Power era this would definitely be a treat.
Dustin Nelson from Thrillist goes on to state that there is a 90s dress code, so if you remember what you were wearing in your teens and possibly in your early 20s, no judgments, then it would be beneficial to see if you've still got those old clothes hanging around somewhere before trying to book this place. All in all it's about the experience and bringing a part of the 90s back if only for a night or two since back in those days things seemed at least a little more fun, depending on your point of view of course. The Spice Girls were after all a kind of revolution and something, anything that has to do with their era and their place in it would seem to be a good bit of nostalgia to get wrapped up in for a short time. There's not a lot of room on the bus, hence the three person rule when it comes to staying over, but it does seem like it would make for a good party for a small group of people and a welcome escape from the world we know today.
Some people these days are stuck in the 90s just like some people back then were stuck in the 60s, but all in all this is just a fun time to be had for the sake of entertainment and a little jaunt back through the decades to a time when the Spice Girls were a big hit and people wanted to know everything they did and everything about them. Remember those days? If you don't then you're either too young or didn't care much for the Spice Girls back then, but in their heyday they were a musical force to be reckoned with since they hit the charts and didn't start dwindling until it became obvious that they weren't trending upward as quickly or as effectively as they should. They came out with a few big hits but started going downhill quickly when those big hits started getting challenged by other hit songs and they couldn't produce anything quick enough or convincing enough to stick around. They did manage to keep their fan base for a while and there are still those that happen to think that the Spice Girls were one of the greatest groups ever. But in a lot of ways they kind of played out and then went the same way as a few bands throughout history that lasted for just a short run.
Madison Roberts from People is letting people know that come May 22 the bus can be booked for a short stay by a couple or trio or simply one person if that's the desire to relive a bit of musical history and step back into the 90s for a bit. There are a lot of us that would be likely to do this if we had the chance and the money to do so, and for a couple of nights it'd be great without a doubt. The only thing that could make it better is if you had the chance to party with the Spice Girls as well for that time, but obviously that's not on the menu no matter how many people would be throwing cash at this offer. Simply getting to be on the same bus that was used in the movie would be good enough for a lot of people since any chance to get in on a part of cinematic history is more than enough for some and a chance of a lifetime for others. It does sound like a lot of fun doesn't it? Plus the price sounds about right, so it might be that the bus will be getting booked early on.