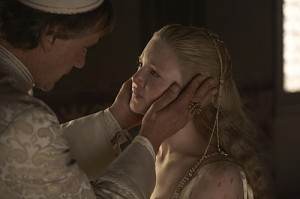 An all new episode of Showtime's new period drama, The Borgias, will be airing tonight, and we have a trailer and sneak peek from the network to share with you.
In tonight's episode, Lucrezia will be getting married to Giovanni Sforza. Lucrezia asks her father's mistress, Giulia, to help her prepare for her upcoming wedding day. Rodrigo forbids Lucrezia's mother, Vanozza, from attending the upcoming wedding ceremony, which devastates Lucrezia.
The ceremony for Lucrezia and Giovanni will be beautiful and opulent, but the festivities soon get derailed. Lucrezia's older brother, Juan, put together a bawdy and insulting play for the newlyweds and it isn't well received. In addition, Cesare arrives with Vanozza, who is determined to attend her daughter's wedding. The entire situation can be summed up as a disaster, and while Giovanni keeps his temper in check during the wedding, he takes out his anger on Lucrezia during their wedding night. As a result, she has to contemplate the likely possibility that the rest of her married life will be intolerable.
Della Rovere, meanwhile, is still traveling through Italy, plotting to bring the new Pope down. Cesare sends a spy to follow him and discovers that the Cardinal is trying to get the wealthy and powerful Medici family on his side. Cesare also keeps busy in the episode by flirting with Ursula Bonadeo, the wife of a very powerful Italian baron.
Non-US readers may not be able to view the embedded videos below. However, you can click here to view them on Showtime's site.
Don't miss an all new episode of The Borgias on Showtime tonight.
clarissa @ tvovermind.com
twitter.com/clarissa373
twitter.com/tvovermind