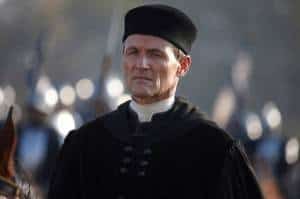 Like The Tudors before it, Showtime's new period drama, The Borgias, is stacking its cast with major talent. Jeremy Irons will lead the cast as the main character, Rodrigo Borgia, the Cardinal who schemed and poisoned his way to the top of the ladder at the Vatican to emerge as Pope.
On the other side, you have Colm Feore, another terrific actor who plays Cardinal Borgia's nemesis, Cardinal Della Rovere, who will stop at nothing to curb the actions of Cardinal Borgia. Showtime explains that Cardinal Della Rovere "views the Pope's corrupt and blasphemous behavior with disdain and is determined to depose him at any cost. As he deviously plots a complex scheme and rallies forces against the Pope, Cardinal Della Rovere will inadvertently unleash forces of devastation upon Italy, and bring the full might of the French army to the doorstep of the Vatican."
Below is a sneak peek highlighting a scene between Borgia and Della Rovere. Borgia is arrogant and smug, while Della Rovere makes it clear that he intends to beat Borgia in the next papal election. History tells us that Della Rovere fails and Borgia becomes Pope, but that doesn't mean these two men won't continue to tussle as the series goes on.
The second video is a terrific trailer put together by Showtime, which highlights some of the players in the upcoming show and explains their relationship to the Borgia family. Finally, the third video is a behind the scenes look at the show.
The Borgias will be premiering with a special two hour episode on Sunday, April 3 at 9:00 p.m. Beginning the following week the show will air on Sundays at 10:00 p.m.

clarissa @ tvovermind.com
twitter.com/clarissa373
twitter.com/tvovermind