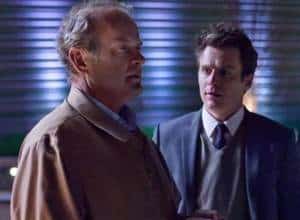 Mayor Tom Kane may be stricken with a degenerative neurological disorder, but during the first season of Boss, he managed to remain fairly calm under pressure. He has been in the Chicago political snake pit for decades and that experience helped him be able to manage all the different happenings in his life; he had to combat a deteriorating relationship with his daughter, a wife that nearly stabbed him in the back, a turncoat in his camp, and plenty of outside influences looking to take him down. But Mayor Tom Kane didn't crack and remains atop the political molehill.
For now, at least.
The second season premiere of Golden Globe-winning Boss will be introducing several new players to the mix, two of which are highlighted in the sneak peeks below. Mona (Sanaa Lathan) might have gotten on Kane's radar through her threatening presence at the latest vote, as she tries to blackmail an Alderman into voting a certain way to keep a decision out of Kane's hands. The look on his face while he's witnessing the back-and-forth and obvious manipulation says that he might have to keep an eye on this woman, who shows herself to be pretty darn capable.
Meanwhile, an ambitious aide named Ian (Jonathan Groff) is working with Kane and might be taking his role too far, at least in Meredith's eyes. This is a woman not used to being told no and being unable to do what she wants, particularly if the person denying her is deemed to be "beneath" her in some form or fashion. Tom Kane may be a danger, but Meredith Kane is the true viper in that household and if there's one Chicago bigwig you don't want to be on the bad side of, it's her.
The second season of Boss premieres Friday, August 17th at 9:00 on Starz. You can check out trailers for the upcoming season here and here, as well as a teaser here.
What way do you think Alderman Alverson voted: for or against Kane? How much damage can Mona do to Kane through her influence with the city council? Can Ian work up the nerve to stand up to Meredith the next time she tries to run him over?