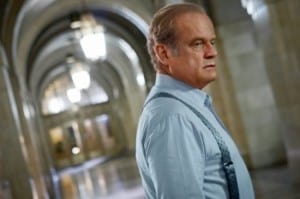 Mayor Tom Kane has been one of the leading political figures in Chicago for years, using his aggressive tactics and silver tongue to make himself the unofficial king of the city. He may have made a lot of enemies on his way to the top, but there are as many people that want to be Tom Kane, to have the power and the perks that come with being a respected/feared political animal. However, once he became afflicted with a debilitating neurological disorder that dulled his once sharp focus, Kane had to face not only his own mortality but a mob that spied weakness in the Chi-town Boss.
On the second season of Boss, Mayor Kane (Kelsey Grammer) is out of options. He isn't getting better anytime soon and the crowd of people angling to bump him out of office is growing larger by the day. He may have cut the head off of the threat that was Ezra Stone, but in its place sprang three others; to be able to stay in office, Kane has to be able to neutralize the enemy while keeping his condition hidden from the hoards coming for him. But the condition has added another element to the mayor's increasingly complicated mindset – with no chance of becoming his old self again, Kane has nothing to lose. And a Kane that has even less moral inclination, even less of a conscience than before is the scariest Kane because he was already dangerous enough before the diagnosis; combine his intimidating political tactics with even more reckless abandon and the city bureaucracy might be in trouble.
In addition to Grammer, the second season of Boss stars Connie Nielsen, Hannah Ware, Jeff Hephner, Kathleen Robertson, Troy Garrity, Jonathan Groff, and Sanaa Lathan.
Boss airs Fridays at 9:00 on Starz.
Will you be watching Boss this season? How do you think that Kane will handle his declining mental condition? Who will be leading the charge to take down the mayor and get him out of office?