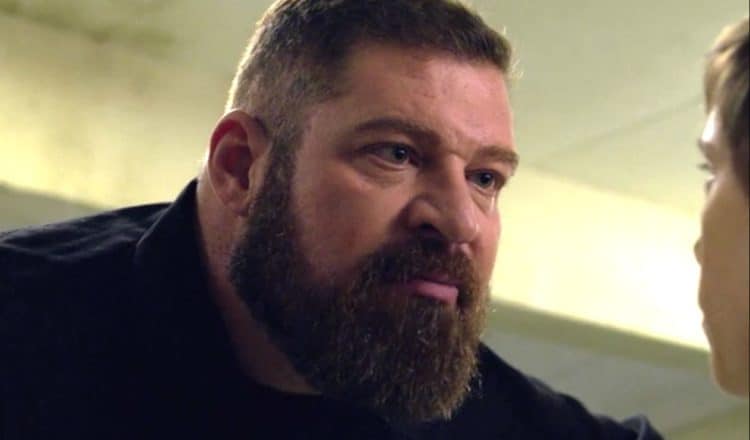 Looking at Brad William Henke you might just see a very big, very hairy man that seems like he could pick you apart with one hand like Thanksgiving turkey. But in all honesty the guy is just as capable of being a big teddy bear as he is of being a brute like he shows on film. He's been one of the most dynamic and well-hated characters in some shows and yet he's been one of the best characters in others. The fact that a big guy like this could be so versatile is amazing and it's even more of a credit to his skill with the craft that he's able to switch characters in such a profound way. A lot of big guys get typecast pretty early on in their careers since a lot of people can't see them as anything but big, mean, and dumb, but the big guys have been coming out in force over the years and showing that they're big and tough, but they're also quite intelligent as well as calm and gentle.
Here's a few things you might not have known about him.
10. He played in the NFL.
The New York Giants took him first in the draft but he got cut from the team and would eventually go on to play for the Denver Broncos. He even got to play in Superbowl 24 against the 49ers, but after undergoing six ankle surgeries he had to retire from the game.
9. He played arena football as well.
Given that arena football is a much smaller field and isn't quite as much running this should have been an easy transition but it seems as though he had to bow out of this as well. Of course it could have been due to his desire to become an actor too.
8. He's in Orange Is The New Black.
As one of the most hated of the guards in the show, Piscatella is the guy that a lot of people were rooting for to get messed up when it came down to the nitty gritty. But when you find out his back story it's almost easy to feel somewhat sorry for him, until you realize what path he took and why.
7. He started acting in 1994.
This was following his exit from football, which is kind of sad since a lot of guys that get into the NFL are there because they're the absolute best they'll ever be when it comes to the game. But being injury-prone is a huge downer for a lot of players since once those injuries set in and take hold they don't often go away. That's when their career starts to decline.
6. He was in Draft Day.
Whether or not this was a true to life representation of what goes on in the NFL Draft it was an entertaining movie since it shows just how stressful things can get behind the scenes when one is attempting to create a winning football team.
5. He's a very big man.
Henke stands at about 6'4″ and is just a huge man, big and blocky, which was perfect for an NFL lineman. But his size and his imposing nature do tend to hide the fact that he can be a big softie to the right people.
4. He was picked in round 4 of the NFL Draft.
You can't honestly say that anyone picked this far down in the draft is worthless or just leftover since each and every person picked in the draft is someone that was good enough to get the nod for the NFL and is believed to have potential. He had his moment in the sun when it came to football and just being put in the draft is an honor.
3. He's guest-starred in a large number of shows.
Being that he's been around the acting circuit for over two decades he's had plenty of chances to show up on various shows and movies and be seen by a number of people that might have easily recognized him in OITNB.
This show is all about a former convict that adopts the identity of his cellmate in order to raise enough money to pay off a gangster that is holding his brother hostage. The unfortunate part is that despite being an expert con man he's dealing with a situation that could easily blow up in his face and thereby get him and his brother killed.
1. He was in Bright.
Henke actually gets to be an Orc leader in this film that blends the real world with that of fantasy in a strange, dystopian version of our world where magic is a common thing but still quite dangerous in the wrong hands.
Brad is definitely one of the more imposing people in Hollywood but his work has been great on camera and it's obvious that he's one of those that needs to stick around.