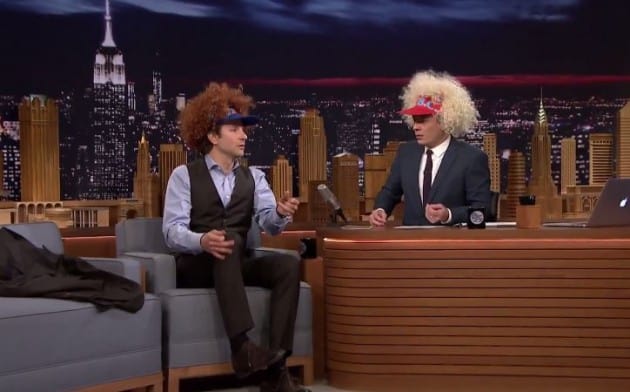 Some things are just universal truths: the sky is blue, the grass is green, and Bradley Cooper is awesome, and he showed yet again why he's so great last night on The Tonight Show Starring Jimmy Fallon.
Cooper, who was celebrating his 40th birthday yesterday (still can't believe he's 40–the guy doesn't look anywhere close to that), stopped by The Tonight Show to promote his new film, American Sniper, but he and Jimmy Fallon quickly got to talking about Cooper's current role on Broadway as John Merrick in The Elephant Man, which led to Fallon bringing up the actor's "little" musical talent.
"I'm glad you said that, because it is very little," Cooper responded.
That response was followed by a laughing Fallon confirming that Cooper was in fact referring to his music abilities and not a certain part of his anatomy (this joke continues throughout the whole video, and it's so funny). Cooper then discussed how he wasn't actually musically gifted, but he could play a mean air guitar.
"When I was a kid I had a lot of time on my hands, and there's this one song by Neil Young," Cooper explained. "I don't know if everybody knows this, and I'm sort of proud that I know it. It's just the guitar solo from 'Down by the River.' To air guitar to it is so meaningless … but I'd love to give you a little taste."
And that's exactly what Cooper did, starting his "performance" sitting in the chair across from Fallon, before getting up and moving around The Tonight Show set. He even eventually headed into the crowd, certainly making a couple of ladies' nights, when he gets up close and plays right in front of them. The best part about the whole video, though, is how much fun you can tell Cooper is having, and that's what makes him so likable–he's just a real, authentic guy (and the fact that he's from the Philly area, where I'm also from, doesn't hurt either).
Watch Cooper's full air guitar performance below. Maybe now, in addition to lip sync battles, we'll get air guitar battles as well? Make it happen, Jimmy Fallon.
[Photo via YouTube]