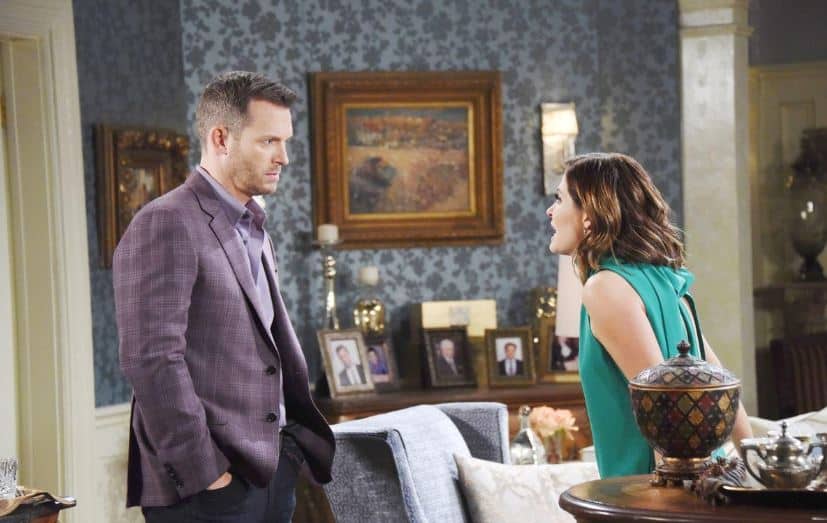 Days of Our Lives fans missed out on so much with a four-day break last week, but yesterday made up a bit for the loss. The show was insane as we watched Theresa do what she knows Brady hates more than anything, which is run to Victor for help. Brady loves him, but he hates how much time he spends involved in Brady's business – and Theresa is not making this easier for him by taking this into her own hands. He doesn't want to be with her, but she knows that Victor doesn't want to see him with Eve, either. Jennifer, in addition to Brady, is every bit as unhappy as you might imagine when she learned that her son allowed Theresa to move in with him. The history there is problematic, and we all saw her displeasure wasn't even hidden.
Xander has been back for like a minute, and he seems to have forgotten all he did to everyone the last time he was in town after faking his own death and doing all he did. He also seems to think everyone else forgot, too, and now he's pitched Victor for the role of CEO, which is not what Victor wants to give him. But it was fun to watch as Xander actually had the nerve to ask. Finally, we got to see Will break the news to his ex-husband that he might be able to get his memory back, but we don't think that Sonny has anything to hope for. Even without his memory, Will didn't want to be with him in favor of being with Paul, so we only see this making Sonny feel a bit of hope in an otherwise sad situation.
What's Happening at Days of Our Lives
Love is unexpected! #DAYS
📸: @laurenkoslow pic.twitter.com/xrimQPYGEw

— Days of our Lives (@nbcdays) June 7, 2018
It's a sad day for Paul fans as it's been announced that Christopher Sean has filmed his very last scenes as Paul. The long-time actor has decided to quit the show, but we can expect to see him hang around until at least fall. We don't know what his scenes look like, what he's up to, or what will happen, but we do know he will not be back following the last airings of his character in the fall. And yes, this might just open the door for Will and Sonny to make their marriage work once again.
What's Next on Days of Our Lives
Is there still something there? #DAYS pic.twitter.com/QZDrZoL3q0

— Days of our Lives (@nbcdays) June 11, 2018
We've been watching as things have gone very wrong for Ciara recently, but what is going to make matters worse is watching as she goes missing. Ciara has been struggling with her life since her rape, but it's only been made worse since she made the decision not to share her past with Tripp. They were seriously together, but she made the decision to run off rather than confide in him, and now she is struggling to find a way to make that work.
When she confided in Kayla – which is not something Hope will love – she decided to go talk to Tripp about things. When she walked into his house, however, she found him in bed with Claire. This is not a good situation for her, so she ran off. She was hurt, confused, and upset. And now she's been in a terrible accident. She's hurt, she's lost, and she's otherwise missing as far as her mother is concerned. We know that Ben saved her, but he's not exactly a savory character, so that won't work well in his favor. What will work well, however, is the realization that things aren't what they seem. Today we will see Hope finally realize that her daughter is missing. She will realize it's been a while since she's seen her, and she will have no idea what happened to her. She's the police, however, so we think it shouldn't take too much for her to figure out what's going on, but things might not be what they seem for her. She will panic, and we don't blame her for her reaction when it all comes out.
Stay tuned for more Days of Our Lives and be sure to check out TVOvermind daily for the latest Days of Our Lives spoilers, news, and updates.