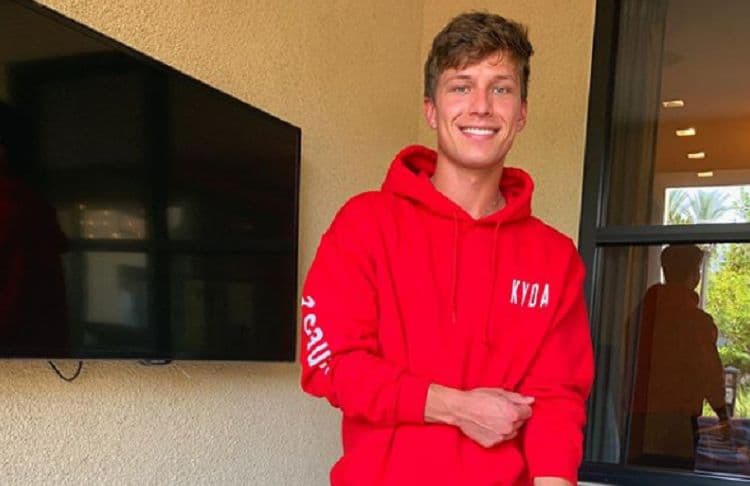 Brandon Butler is a man who has a very recognizable face. You've seen him on television more than once. Right now, he's famous for his role as an abusive boyfriend on the hit show "Trinkets," on Netflix, but he's had some other big roles on television as well. He was in the show "13 Reason Why," on Netflix, too. He's been on some big shows there, which is not something everyone gets to say. As the newest season of his hit show was recently dropped and everyone is binging, we thought we might get to know the cast a little better. He's not a super likeable guy on this show, so we thought we better get to know him better as a person outside of work.
1. He's Young
Like his coworkers, he's also very young. He was born on September 11, 1996. He's a man who has been given a chance to live his life on his terms doing what he loves, and he's making good on his dreams of being a famous actor despite his young age.
2. He's A Midwesterner
Butler was born and raised in the Midwest. He's from Illinois. Frankfurt, if you want to get specific. We don't know how long he lived there, but we do know that there is a lot of beauty and a lot of potential in a place like that.
3. He is Professional
His co-star, and the actor who plays his on-screen girlfriend, Quintessa Swindell, makes it very clear that they work well together. Anytime they had an abusive scene to shoot, they would sit down together and talk about it, make it clear that these things they have to do are not going to actually hurt anyone, and discuss how they feel about it. We love that about both of them.
4. Netflix Gave Him His Start
His role as Scott on "13 Reasons Why," was his first major role on television. They must have liked him a lot to have him come back and play yet another major role on the same network but on a different show. It shows us that he's not only talented, but that he is also someone who is good to work with.
5. He Loves Baseball
It's an all-American sport, and most everyone loves baseball, right? He is a big fan of the White Sox. This does not surprise us, though. He's spent a lot of time in Chicago, so it makes sense he would be a fan of their team. Additionally, he was a player when he was growing up. It's a passion for so many.
6. He's Done Daytime
So many actors get their start on daytime television, and that's something we adore about them. He was on the show "General Hospital," when he was younger. He had a good time doing it, and it did give him some good experience to take with him as he began to take on major acting roles elsewhere.
7. He's a Family Guy
He might not be married or have kids of his own, but that doesn't mean he cannot be a family man. He is, and he loves it. He is close to his family, and he's even close to his extended family. What this tells us is that his own family is close with their family, and there really is nothing better than that in life. Family is everything.
8. He Learns from his Co-Stars
What we love about an actor like this is that he's never felt like he's got so much talent that he cannot learn from those around him. Instead, he's never too good or too talented or too much in his own head to learn from those he works with. He likes to take notice of what his coworkers do, how they work, and he likes to learn from them. He's a smart man for realizing that there is always something to learn. This also tells us that he has an immense amount of respect for those around him.
9. He's Relatively Private
Despite the fact that he is a huge star and that he does spend ample time on social media, he's a guy who doesn't share too much about his life. Just enough to keep his fans and friends interested, but he keeps most of the important stuff to himself.
10. He's a Laid-Back Guy
He's the kind of guy who likes to go on vacation with his family and friends and take funny photos in famous places. For example, he just had to take the air jump picture in front of the famed Painted Ladies, or as we like to call it, the Full House house in San Francisco.