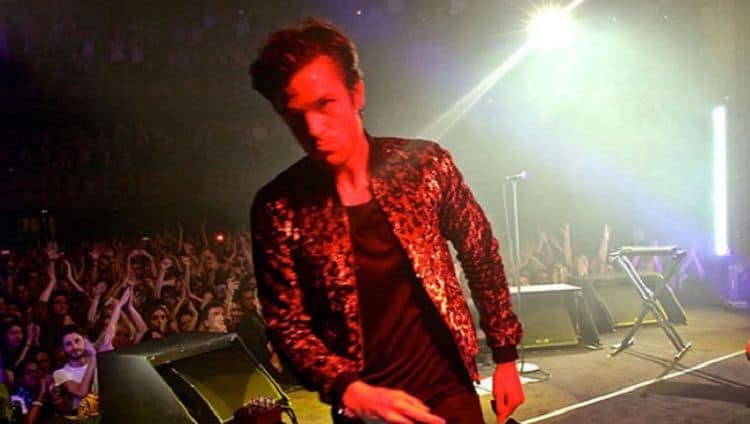 Who doesn't love the Killers? The rock band, not the people who take it upon themselves to take the lives of other people like they are God Himself, of course. We don't feel like we really need to specify that, but you just never know with some people. Brandon Flowers is one of the men who make up the Killers, which tells you he's one of the most talented musicians in the world. Who is he? What's he like? How did he find his way into the rock star life? We don't actually know, so we thought we might find out and share it with you all.
1. He's an 80s Guy
We kind of think that all the best rock stars in the world were either born or raised or already famous in the 80s, and we feel this is one of those things that does make a difference. Brandon Flowers was born on June 21, 1981, which means he's just celebrated his last year in his 30s in 2020. We don't know if he's excited about 40, but we are.
2. He's From Nevada
When he was born, he was in Henderson, Nevada. It's not too far from Las Vegas, but he only spent a few years of his life here. He grew up in Henderson only until he was around 8, and then his family moved. We don't know if it was work related for his parents, or if it was something else.
3. He Comes From a Large Family
A very large family, if we are being completely honest. He has five siblings. His family has a total of six kids, and he is the youngest of all of them. He and his older brother are the only boys, and the rest of his four siblings are all sisters. We imagine that was a really hormonal household for at least a few years.
4. He Grew Up in Utah
When his family moved when Flowers was 8, they moved to Utah. They moved to a small town called Payson. They were only there for two years, however. They didn't leave Utah when they moved. But he was 10 when they left and went to another small town called Nephi. He was just beginning his middle school career when this move happened.
5. He Grew UP Mormon
Being that he grew up in Utah, you might assume he was Mormon. You would be correct. His family practiced Mormonism. The Utah area is very much populated by those who are members of the Church of Latter-day Saints, and he was very much a part of that his entire life.
6. He Moved to Vegas to Live With Family
When he was a junior in high school, he moved again. This time, he did not move with his family. He left his family home and moved to Las Vegas to live with an aunt. He graduated high school there, and he even credits being a Mormon in Las Vegas for being part of the rock star he is today. The sin, the religious, the lion's den. He was ready for what he'd face as a famous rock star.
7. He's a Married Father of Three
It was 2005 when he married his wife. Her name is Tana Mundkowsky. They currently live in both Park City and Las Vegas, and they have three little boys. Their oldest son was born in 2007, their middle son in 2009, and their youngest son in 2011.
8. He Has a Famous Cousin
It would seem that talent is something that absolutely runs in this family. They have a lot of it to go around. His cousin is a famous golfer. His name is Craig Barlow. Perhaps you recognize his name because he was inducted into the Golf Hall of Fame in Las Vegas.
9. He Doesn't Approve of Poor Behavior
All right; that was vague. No one approves of bad behavior. However, when his road crew was recently accused of sexual assault, he spoke out against it. He stated he would 'never' turn a blind eye to the bad things that some people do to women, and he will never stand for it. That is why he is so relieved after an investigation found that there was no wrongdoing. They were able to locate the woman who was alleged by a witness to have been a victim, and they were able to get to the bottom of what happened or did not happen, but he is happy that someone was looking out for her and that he was able to ensure that they did not employ any type of predator in their team.
10. His Wife Has Complex PTSD and Depression
He doesn't go into any details about it other than the fact that this type of PTSD is usually suffered by people who experience multiple traumatic events as a child, and it decided to manifest itself to her when she was in her 30s. He fully supports her and makes her his priority, and he is very outspoken about advocating for people who suffer from mental health issues.