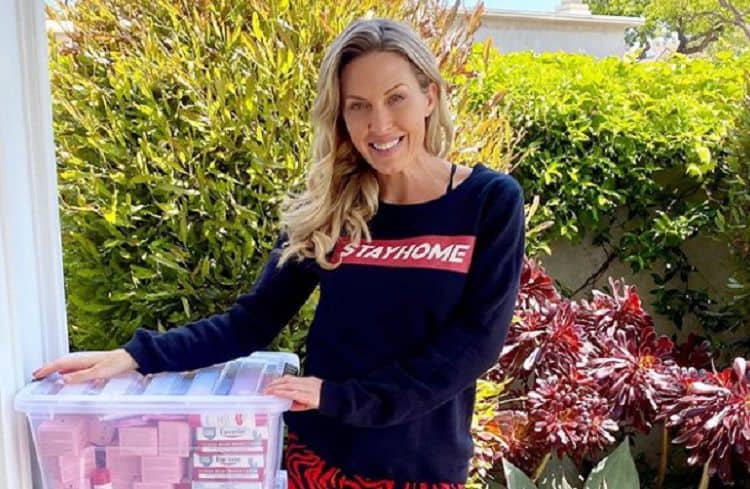 Some dreams take time to materialize, and it is always up to the dreamer not to give up. It will take time, but it shall come to be. Braunwyn Windham-Burke is an excellent example of a late dream that has finally materialized in an age most people would least expect. She is the latest star to be incorporated in the famous, "The Real Housewives of Orange County" reality show." At the age of 41 and having spent most of her life as a housewife, Braunwyn Windham-Burke finally breaks into the limelight. Before making it into the reality show, the woman was not a household name, but she has hit the road to the top harder than expected. Reality fans are already singing her name in praise. Here are a few things about the new star that you probably did not know.
1. Her personal life and background
Braunwyn Windham-Burke is a 41 years old American TV reality show star and blogger. According to Yahoo.com, she was born and raised in Orange County but later moved out to Miami with her husband. She and her family have returned to live in Orange Country. Her mother is Deborah Windham who is a medical doctor, a retired rock star and a "priestess of Burning Man," an annual cultural festival held in Nevada desert. She spent her childhood with her mother, attending rock shows with her, but when she went to medical school, Braunwyn Windham-Burke moved in with her grandparents. She is married to Sean Burke, and together they have seven children. She considers raising the seven children a full-time job hence the reason she didn't pursue formal employment.
2. Her husband is the CEO of ChannelStars
Maybe the reason they could afford to have seven children is that her husband, Sean Burke, had a well-paying job. Sean is the current president of a successful business organization called ChannelStars, which is based in Newport Beach in California. ChannelStars is strategic planning, marketing, content, and video creation company that assists other companies to establish themselves in both virtual and physical blended environments. Mr Burke has been the company's president for almost ten years now. With his business booming, there was no pressure on his wife to acquire a full-time job.
3. She is a blogger
According to Heavy, Braunwyn Windham-Burke is a successful blogger. Her long experience raising her seven children prompted her to start her blog, where she writes about parenting experiences. Her blog is called "Barefoot in Heels" and consists of several categories that include Family, Outfit of the Day, Pregnancy, Kids Corner, and Travel. Her recent post reveals that she has finally found a drink to quench a thirst that she has harbored for more than 20 years. She has finally found something to do for herself, and that means the world to her.
4. She is a fashion icon
One thing that might baffle fashion enthusiasts is the fact that Braunwyn Windham-Burke has seven children. Despite having gone the way of parenthood for many times, she has somehow been able to maintain her super-hot body. As such, she is also a renowned fashion icon who flaunts designer attires and products on her Instagram account for her clients.
5. She owns a love shack
According to Yourtango, Braunwyn Windham-Burke and her husband own a love shack. With a chaotic house full of kids, Braunwyn claims that she and her husband needed a little getaway where they could be, just them. She claims the small condo is not suited for children but made to host bad choices like debaucher. Maybe the idea of the love shack could be the cause of the seven kids.
6. She fancies independence
Despite having had to depend on her husband for most of her life, Braunwyn loves the idea of being an independent woman. She has not had a job in her adult life, and all she did was take care of her family. This created an urge to stand and have something she would call her own. This need for freedom is one of the reasons she took up the role in "The Real Housewives of Orange County reality show."
7. She has two nannies
In spite of not having a full-time job to care for her family, Braunwyn could not handle her children on her own. Consequently, she hired two nannies who help her take care of her seven children. The nannies are coming in handy now that she has secured a role in a reality show.
8. Her social media presence
Just like other celebrities, Braunwyn Windham-Burke is very active on several social media platforms. She, however, seems to prefer her Instagram and Twitter accounts. She flaunts about 46.7k followers on her Instagram account and another 2558 on her Twitter account. She uses these platforms to popularize her blogging as well as entertain her followers with beautiful photos and video clips of her daily life. However, she is currently using these platforms to mobilize support for her role in "The Real Housewives of Orange County reality show."
9. Her hobbies and interests
Even in her tight child-care schedule, Braunwyn still managed to find ways to have fun even before her appearance on the reality show. The love shack was her perfect getaway from the chaos at home. She loves to have some quiet time with her husband in their love shack. Furthermore, she loves to take vacations as seen on her Instagram post in addition to having a good swim. Her social media also reveal that she enjoys having good family time with her children and husband.
10. Her net worth
Braunwyn Windham-Burke is a wealthy celebrity whose net worth is bound to increase significantly over the years. According to Mixed Article, the star will be making around $60k per episode in "The Real Housewives of Orange County" reality show. Her current net worth hovers around $3 million since she earns from both her blog and her role as a reality star.