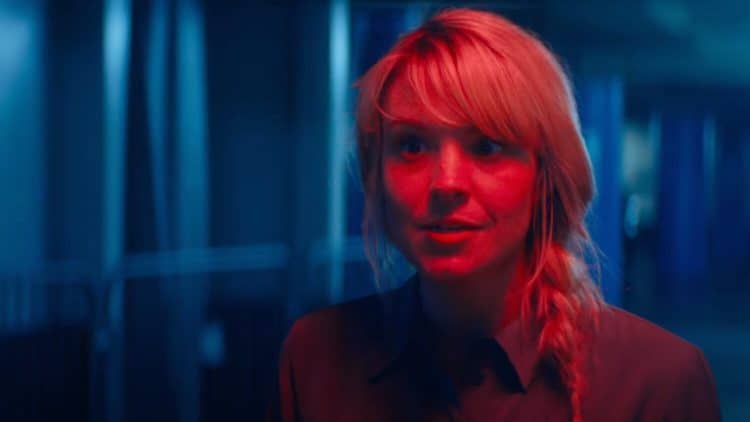 Every actor looks forward to the day when they can find some consistency, and Brea has been fortunate to have that opportunity arise more than once. Throughout her career, she has been lucky to land several recurring role that has allowed her to become known to viewers all over the world. She got her first big break when she was cast as Daphne Milbrook in the TV series Heroes. More recently, she has become well-known for playing Bri in Eastsiders. On top of the success she's had on the small screen, Brea has also had some movie roles as well, and she has proven that she can light up any kind of screen. Here are 10 things you didn't know about Brea Grant.
1. She Once Shaved Her Head
Many people have a very close relationship with their hair, and it's something they often can't envision themselves without. When Brea was just 14-years-old, however, she decided that she was ready for a change. She said, "I shaved my head when I was 14 – is that bad? I asked my dad's permission first. He said, 'You're gonna look like a boy.' And I said, 'OK'… then I did it anyway. All through high school, I had a shaved head and I'd dye it crazy colors – it was fun."
2. She's A University Of Texas Alum
Brea was born and raised in Texas and decided to stay in her home stage for college. She attended the University of Texas at Austin where she earned both a bachelor's and a master's degree in American studies. It's unclear whether or not she has any formal acting training.
3. She Has Lots Of Behind The Scenes Experience
Since actors tend to get the most attention in the entertainment industry, that is what most people know Brea best for. What some don't realize is that she's also had a very impressive career behind the scenes. She is a writer, director, and producer who has worked on several projects over the years.
4. She Created A Comic Book
The acting world isn't the only place where Brea likes to flex her creative muscle. She is the creator of  two comic book mini-series: We Will Bury You and SuicideGirls. She is also the co-author of a graphic novel called Mary: The Adventures of Mary Shelley's Great-Great-Great-Great-Great-Granddaughter which was released in 2020
5. She Was In Friday Night Lights
At this point, Brea has well over 80 acting credits. Unless you've been following her since the beginning of her career, you may not know that one of her earliest acting jobs was in the TV series Friday Night Lights. She appeared in three episodes in 2008 as a character named Jean Binnel.
6. She Loves To Read
In addition to being a writer, Brea is also a very avid reader. She loves books and reading is one of her favorite ways to spend her free time. Not only does she love to read, but she enjoys sharing book recommendations with her fans and followers on social media.
7. She Loves Gardening
Reading isn't the only way Brea likes to spend her free time. She enjoys being outside and gardening is a hobby that she has grown to love. There's something about being out in nature that many people find extremely relaxing – especially people who work in hectic industries like the entertainment business.
8. She Hosts A Podcast
Brea loves books so much that she and her friend Mallory O'Meara have started an entire podcast centered around books. The podcast, Reading Glasses, is a weekly show where Brea and Mallory share reading tips. According to the podcast's description, "Brea and Mallory also offer advice on bookish problems. How do you climb out of a reading slump? How do you support authors while still getting books on the cheap? Where do you hide the bodies of the people who won't stop talking while you're trying to read? Mallory and Brea engage in a weekly discussion geared towards all kinds of book lovers — no matter what you read or how you read it."
9. She Loves Animals
From what we can tell, Brea doesn't have any children of her own but that doesn't mean that her maternal skills have been getting put to good use. She is a member of both team dog and team cat. Her fur babies have made several appearances on her Instagram profile and it's clear that she takes her role as a pat parent very seriously.
10. She's An Emmy Nominee
Brea hasn't won any major awards yet, but with the way things are going her time is definitely coming. So far, she has been nominated for two Daytime Emmy Awards, both for Outstanding Digital Daytime Drama Series both nominations were shared with the cast of  Eastsiders.