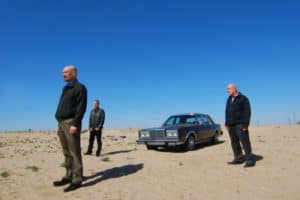 Warning:  this article openly discusses events generally known to occur in the next episode of Breaking Bad "Say My Name".   If you are remaining spoiler free, shut this window down as fast as you can.
Part of Walter White's pride, and a major source of his tremendous ego, is the purity of his product.  The Blue Sky meth has legendary purity.  However, there is another perspective on this purity that has quietly accompanied Walt's cocky assessment of his product:  purity doesn't matter.
Virtually every drug king pin from the cartel to Gus Fring has downplayed the issue of purity.  As long as there are users, purity doesn't matter.  Since we spend most of our time in the head-space of Walter White, it's easy to ignore the numerous times that this statement has been used on the show.  Is there really any reason to think that Declan (Louis Ferreira) is going to see it any other way?
Declan was a competitor to Gus Fring whose major motivation for buying Walt, Mike, and Jesse's store of Methylamine is getting the Blue Sky off the market.  Is it because the purity of Blue Sky makes it a more desirable product, or because it is taking up too much market space?  Walt seems to be banking on the assumption that it is the quality of his product that this competitor fears.
Next: Prediction #1 – Walt's Ego Will Take a Hit