Breaking Bad is finally back. Not since LOST's final season have I been so utterly absorbed in every last moment of an episode. Having taken in the first two installments to Breaking Bad's final season, I find myself filled with thoughts and expectations that aren't part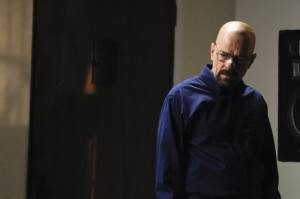 of the normal television watching experience. This relatively new art of the 'final season' has been a bittersweet thing for fans of TV shows, highlighting how building anticipation for following seasons, and sustaining a sense of mystery are far different techniques from bringing hours and hours of story telling into a final context. 'The End' is as much an end as it is judgement day. Surely Vince Gilligan and his extensive and talented collaborators are secretly dreading the day the last few seconds of their creation trail off into history, and the armchair critics begin either feasting on the bones or erecting monuments to Breaking Bad's genius. From these first few hours, though, it would be hard to guess that.
I'm tempted to say something cliche like 'Breaking Bad is back and badder than ever', but I really feel that Breaking Bad has established its legitimacy as one of the best dramas on television–if not the best–enough that merely saying nothing has changed sort of says it all. Since its opening moments it seems that Breaking Bad has held this one sustained chord of excellence throughout its entire run. There have been no off-days for Breaking Bad, no breaks from its tense and foreboding narrative of moral degradation. Breaking Bad has become iconic in its brilliance, and to no-one's surprise season 5 thus far continues to lay down what will no doubt become a long lasting legacy in the annals of TV.
So what to expect: we obviously don't want to give away any spoilers, but I think a rough look at the contours of the first couple of episodes will surprise no-one. The opening shot of the first episode, "Live Free or Die", is like many open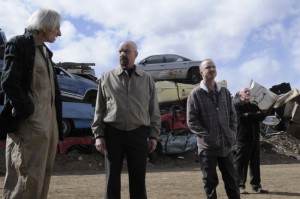 ing shots from Breaking Bad premieres. It is a glimpse into the future. This time, the glimpse is not so vague. Where earlier opening images, like doll eyes floating in water, have been almost dreamlike prophecies, this opening scene is far more obvious. We see Walter, but not quite the same Walter we know. This Walter seems defeated, weathered, resigned. He's here to settle something, and the character he meets up with will spell out everything we need to know about what Walter might be up to. What, exactly, is it that Walter is up to? If we go down the route of least imagination, it would seem easy to figure out. This is where we have to wonder how this scene breaks from earlier Breaking Bad season intros. They often do not lead to anything we might have expected from first impressions.
As far as the general story substance of the Premiere is concerned, it is definitely an attempt to grab hold of the shocking sense of release the Season 4 finale left us with–and it succeeds, wildly. Gus Fring may be dead, but his impact on the world of Walter White and Jesse Pinkman is very much alive. Along with killing Fring, and blowing up the lab, comes the more expansive issue of revealing the Chicken Man's connection to the drug trade to the world at large. In particular, the revelation redeems Walt's DEA agent Brother-in-law Hank, whose vindication fuels him with a new resolve to untangle the Fring web in search of co-conspirators.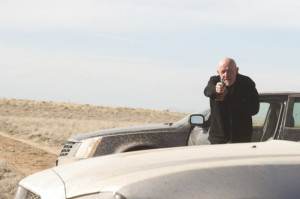 In short, the hit on Walter and his family is off, but the real trouble may just be beginning. In the first two episodes, you will find the character-scape of Breaking Bad change in drastic ways as the aftershock of Gus's execution ripple through areas of the landscape we haven't even ventured into yet. And still, Walter's trajectory remains unchanged; perhaps even hastened. No longer on the fence the separates the back yards of good and evil, Walter now finds deception to be second nature, and remorse an inconvenience to be 'waited out'.
The best part of Breaking Bad season 5 so far is that it does not seem to be self-aware of the fact that it is coming to end. Rather than embarking on an exposition filled journey to explain itself, Breaking Bad is going out the way it came in with a display of craft unequaled in its time. Is it too late to change their minds about this whole final season thing?
Tune it to Breaking Bad "Live Free or Die" tonight at 10/9c PM on AMCTV. Facebookers don't forget to join us on our Breaking Bad fan page for exclusive pictures, photos, news updates, and discussion.