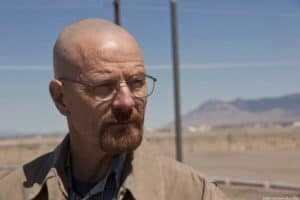 There's no doubt that Bryan Cranston is one of the best actors on television right now. As Walter White on AMC's Breaking Bad, he brilliantly portrays the slow deterioration from a family man to an amoral drug kingpin. His much happier role as another family man, though, came much earlier with the sitcom Malcolm in the Middle, which is now being rerun weeknights on IFC. One thing both characters have in common, though, is a propensity to wear tighty whitey underwear. In an interview with IFC.com, Cranston explained his thoughts.
"When I saw that in the script in Breaking Bad, I brought it to Vince Gilligan and pointed out that I wore it for seven years on Malcolm and he said, "Oh forget it go find something else.,'" Cranston stated. "So I started going through wardrobe and while I was doing that, I realized that when he had Walt in tighty whitey, he did it for a reason. It meant something and I wanted to get to that root of that. I chose tighty whitey's on Malcolm because. A grown man in tighty whiteys, wearing them is funny. Hal wore them because he always wore them and it never occurred to him to wear anything else. He's still a boy. Walter White wore them because he stopped growing."
It's an interesting perspective on an already iconic television character. You can check out the rest of the interview over at IFC.com.
Breaking Bad will return in 2012 for its fifth and (expected to be) final season, while Malcolm in the Middle is currently airing in syndication on IFC.