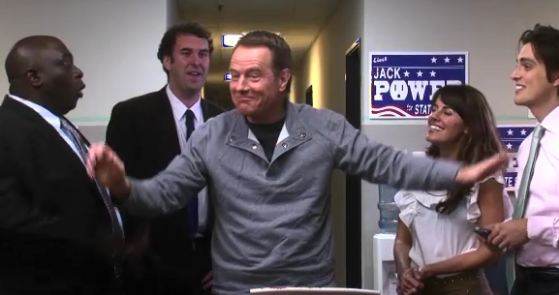 Look out, Bryan Cranston has returned to comedy – and if you've forgotten Malcolm in the Middle, he's very good at it. Long before Cranston cemented himself to television history with his multiple-Emmy award winning portrayal of Walter White on Breaking Bad, Cranston paid the titular character's father, Hal, on Malcolm in the Middle. His comic genius brought him three Emmy noms, but alas no wins. After his three consecutive wins the dramatic chute for each season of Breaking Bad, it might be hard to readjust to a lighter tone of Cranston – but as you'll soon see, it won't take too long.
In The Handlers The Breaking Bad star plays State Senator Jack Power, an overly ambitious senator with a serious lacking in everything needed to make a successful politician surrounded by Handlers – hence the title – that could easily be called 'enablers' for how they attempt to rein in their bosses under-exuberance and replace it with the seedier aspects of political life. Check out episode one and two below, but beware: it is not work safe.
Check out The Handlers every tuesday at Atom.
Ladies and Gentlemen, presenting your newest State Senator, Jack Power!

Bryan Cranston (Breaking Bad, Malcolm In The Middle), plays budding politician Jack Power, a guy who's trying to do the right thing in his bid for State Senate. And he's going to do a great job, as long as his political consultants at Rayburn, Saperstein and Butz don't get to him first. Featuring Matt Braunger, Andrea Cansler, Josh Dean, and Gary Anthony Williams.