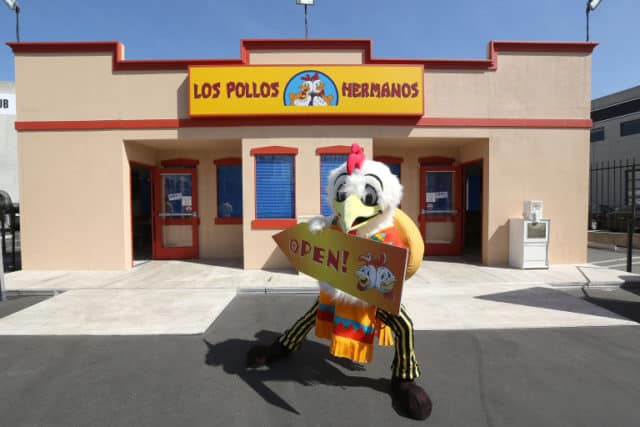 This is by far the best Breaking Bad news since the show Breaking Bad was on the air.  I'm sure Gus is smiling right now.  You might recall an AMA Vince Gilligan did on Reddit two years ago when he was asked whether or not he'd open a real Los Pollos Hermanos,  the famed chicken/meth/money laundering one-stop shop from Breaking Bad and Better Call Saul.  This was his response at the time.
Believe it or not… there is talk of a Pollos Hermanos becoming a real restaurant. This is not an idea that I generated personally. But it's one that's been presented to me, through the good folks at Sony, and the idea came to them from a businessman who has an interest in doing just that. Speaking for myself, I'd love to see that happen!
Turns out that a two-day pop-up restaurant is making its way to New York on Sunday, April 9 and 10 only, at 243 Pearl St. New York.  Unfortunately it's not a permanent Pollos Hermanos chain but at least we'll have the benefit of rancheros plates, breakfast tacos, burritos, burgers, and more. Although fried chicken wasn't listed, "the pop-up served bags of curly fries, a cup of water, and three dipping sauces."
Pop-up hours will be April 9th from 11 a.m. to 8 p.m. and April 10 from 10 a.m. to 8 p.m.
[h/t NY Eater]