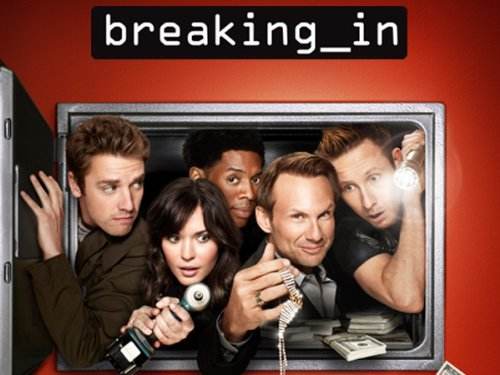 It seems that Bret Harrison and Christian Slater just can't catch a break and their most recent show, Breaking In, is no exception.
Breaking In debuted half way through the 2010-2011 season. It was a cleverly written show with engaging characters and just enough wacky to not completely alienate the average viewer. But when the first cancellation was announced, I was one of several people who took to the Internet to protest it. It's not the first time fans banded together to try and save a show from the brink. Many of us rejoiced when the contracts of the main cast members were held over to the next season.
Then other news started to trickle in about changes being made. I have nothing against Megan Mullally, so I wasn't quite so outraged when she was added to the show. Admittedly, it would take away from the awesomeness that was Slater's character, Oz, but I always try to reserve judgment. Then came the news that Michael Rosenbaum and Odette Yustman would not be returning, with Yustman now a guest star in order to finish her character's run.
A devoted fan, I watched the new season of Breaking In and, in my opinion, it was not as good as the first. Yes, a lot of the snappy writing was still there, but the dynamic of everything was just… off. Mullally's character was basically a slightly toned-down Karen (her character on Will and Grace). Erin Richards as Veronica's assistant was a slightly more naive version of the new person in the office which was Bret Harrison's character in the first season.
I'm not sure if the changes came from the network or the showrunners. Wherever the blame lies the cliché of "if it ain't broke, don't fix it" comes into play. The same mangling occurred in the second season of Human Target. The new characters added to the show threw off the balance that captured the fans' interest in the first place. Changes like that really shouldn't happen until after the third season. A show needs a chance to grow.
Now Fox has announced that it's pulling the show from its schedule once again and it is unlikely to return. I'll mourn the first season of Breaking In and eagerly await the day that both Bret and Christian will be on my TV again.