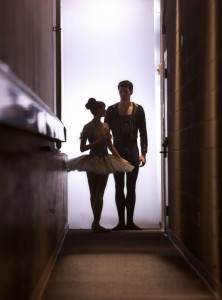 Did you tune in to the series premiere of Breaking Pointe last week? Despite knowing absolutely nothing about dance, I'll admit that I was rather intrigued by the show, not to mention blown away by the kind of athleticism that the Ballet West dancers are capable of. At the end of the premiere, we learned that one member of the company – Katie – was not offered a contract for the following season, forcing her to go off and audition for other companies in hopes of securing a new job. But that's going put her boyfriend, Ronald, in an awkward position.
Here's what's in store for tonight's new episode: "Ronald is torn between staying with his brother Rex at Ballet West or leaving with girlfriend Katie, and he needs to decide soon because his signed contract is due. Rex sees that his brother is conflicted and decides that a visit to their family in San Francisco might help his brother make the right decision. Ronnie must also make a decision about his contract and turns to his sister and fellow dancers for some much needed advice. Meanwhile, Katie continues her audition process, traveling to Ballet Idaho in the hopes of landing a position with their company, and Artistic Director Adam Sklute sets his dancers to work on a new erotic ballet."
Watch a preview and sneak peek below for tonight's all new Breaking Pointe, airing at 8:00 p.m. ET/PT on The CW.