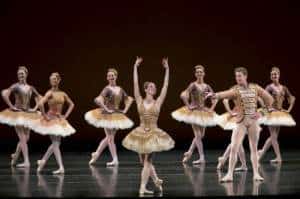 The two new CW summer reality series couldn't be more different. The Catalina (which already premiered this week) is a light-hearted (and sometimes ridiculous) look at a hotel staff in Miami. Breaking Pointe, on the other hand, is a quieter, more serious look at what it really means to excel in the competitive and demanding industry of ballet.
Breaking Pointe introduces us to Ballet West, a company with slightly less than 50 dancers. Of those, we really get to know about 7 dancers, all at different levels of their career. There's Principal Artist Christiana Bennett, who is a veteran in the company. On the other end of the spectrum, there's Beckanne Sisk, who, at younger than 20 years old, has the kind of natural talent that could really help her rise through the ranks of ballet at a more accelerated place. The series will take us through an entire season at Ballet West, but the pilot episode begins with "contract week", when employment contracts are renewed or terminated, and all of the dancers learn their place in the company for the coming season.
Leading the company is Artistic Director Adam Sklute, who took the time to speak with us about the new series and the kind of dedication that it takes to become a professional ballet dancer. This type of industry is not for the unmotivated.
Make no mistake…ballet isn't a job, it's a lifestyle. Adam explained that, for five days a week, each dancer begins with a 90 minute class that "takes you from simple exercises [like] standing at a bar and pointing your feet and bending your knees to all of a sudden lifting and kicking your legs. Then you work into the center where you start spinning, balancing on one leg, jumping high into the air, turning around in the air, all of these things."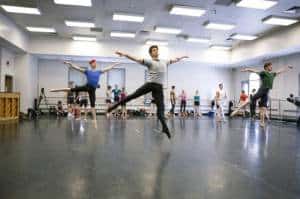 After a 15 minute break, rehearsals resume for another six hours and "they start practicing the ballets that they are going to dance in that given season. And they go over and over and over it." This is done five days a week, or six days a week when the dancers are performing. In addition to the rehearsal, there's cross-training: "All of them will go to physical therapy when they can. All of them will go to the gym and work out in different ways to work on the things that they need to help them that ballet doesn't necessarily give them. It's an intense, intense life."
In other words, the amount of training and dedication needed to become a professional dancer, according to Adam, surpasses that of an Olympic athlete. Impressed yet? You should be.
While we get to know the individual dancers in Ballet West, it becomes clear that any stereotypes you have about ballet should be thrown out the window. Sure, there's tiny, pretty girls who glide across the stage, but there's also men (including a self-proclaimed "gear-head"). Not only that, but all viewers can find something they like within this art form: "The truth of the matter is, depending on what angle you want to come at from viewing ballet, you can get enjoyment out of it. If you're someone who is really into athletics, you're going to love this because it is such a physical, athletic art form. If you're someone who likes beautiful music, you're going to love it because there's so much beautiful music. Anything….costumes, art, physicality, beautiful people on the stage…who knows what you like? This is really an art form for everyone and that's why it's a passion of mine and why I made my life producing it."
Breaking Pointe not only shows us the business of ballet, but also the behind the scenes "drama", if you will. There are inter-company romances between a few of the various dancers in the show. And in a business where your place of employment can change from one year to the next, those kind of relationships can be difficult to maintain.
There are rivalries that spring up over positions and seniority, although Adam seems to think there's nothing wrong with healthy competition: "I think that competition, if it's balanced well, is a positive thing and I think that's what we all live on. No dancer wants to be in a company with dancers that are not as good as they are. Otherwise what's the point of doing your best? Dancers who are as good or better than you are gives you always something to strive for."
There are also individual struggles for perfection that can never really be achieved: "This is the beauty and the pain of our art form: one will never achieve perfection, but one will spend their entire dancing career striving for it. I think that's the think about it: there is this perfect ideal that we as dancers, we as physical artists are always working for. And that ideal is always there and you're always striving for that. It may be different in whatever ballet you're dancing, it may be different for men and women and it may be different form one thing to the next."
In the end, Adam hopes that viewers will take away what he thinks is message of Breaking Pointe: "I hope that viewers will see how wonderful this art form of ballet is. I hope that viewers will see how challenging it is and that people will get a sense that if commit yourself 1000% to something, that's all that matters. It's not just about ballet, it's about life in general."
Breaking Pointe premieres tonight at 8/7c on The CW. Watch some sneak peeks for the episode below.