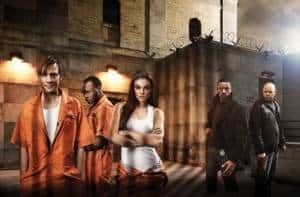 Breakout Kings, the new drama created by Matt Olmstead and Nick Santora (writers/producers on Prison Break) will be premiering on A&E on Sunday, March 6 at 10:00 p.m.
The show centers around two U.S. Marshall: Charlie Duchamp (Laz Alonso) and Ray Zacanelli (Domenick Lombardozzi). The pair decide to test out a new method of catching escaped prisoners and form a special task force composed of convicts. The team includes three convicts previously caught by Ray: Lloyd Lowery (Jimmi Simpson), a behaviorist/psychiatric expert who is skilled in psychoanalysis; Shea Daniels (Malcolm Goodwin, a street-wise ex-gangbanger; and Erica Reed (Serinda Swan), a tracker who was taught by her bounty hunter father. The final member of the team is a civilian, Julianne Simms (Brooke Nevin), who keeps track of all information and data.
A&E has provided descriptions of the first two episodes:
Pilot: When convicted murderer August Tillman escapes from prison, veteran U.S. Marshals Charlie DuChamp and Ray Zancanelli decide to take an unorthodox approach to fugitive apprehension by forming a special task force comprised of the three most elusive fugitives they have ever captured. Convicts Lloyd Lowery, Philomena Rotchcliffer, and Shea Daniels agree to assist in the case in exchange for time off their sentences. While the marshals and cons struggle to adjust to their new partnership, the team knows they must learn to work together before Tillman leaves more bodies
in his wake.
Episode 1.02: Disguised as a film shoot crewmember, Joe, a convicted pedophile, makes a break for it. On his trail, the Breakout Kings must be sure he doesn't commit any more crimes while on the loose. Their first lead sends them to the school where Joe worked as a counselor and was accused of molesting six students. Then, they track down Joe's estranged wife and children, whose lives have been seemingly destroyed by Joe's life sentence.
Below we have several trailers, sneak peeks and character introductions for you, including a peek of Robert Knepper. Prison Break fans will remember Knepper's role as Theodore "T-Bag" Bagwell. Knepper is scheduled to appear in upcoming episodes of the show. There's also a gallery with photos of the characters, as well as their bios.
Check back this weekend for our full review of the first two episodes.

[imagebrowser id=903 template = flipped]
clarissa @ tvovermind.com
twitter.com/clarissa373
twitter.com/tvovermind