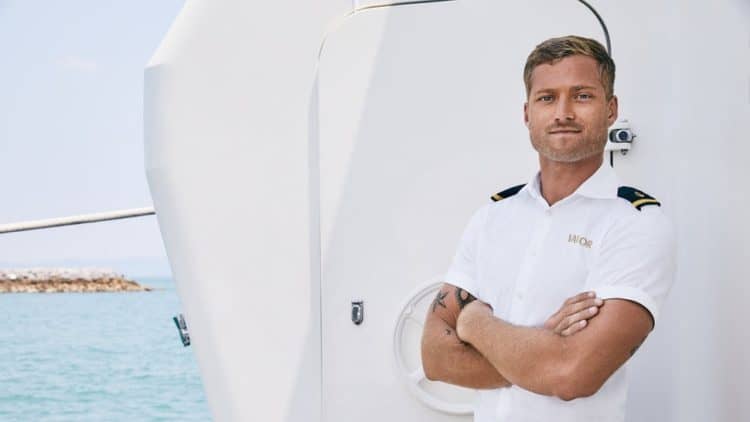 Brian de Saint Pern is a newcomer on the cast of "Below Deck" for season 7. Although fans of the series may have already done their homework and checked him out, most viewers are still not familiar with the reality-tv actor. It's always nice to have a little background on the newcomers so we've checked the facts to find 10 things that you probably didn't know about Brian de Saint Pern. This will give you a little background information as we move forward with the new season.
1. Brian de Saint Pern is the new deckhand
You'll get to meet Brian this season as "Below Deck" gets into full gear for another great season. Brian is new to the series, and he is coming on board as the lead deckhand. We also learned that he's experienced and quite passionate about the industry, so it sounds like he may be a good fit with the rest of the crew, but only time will tell as they get underway.
2. He's a native of South Africa
Brian de Saint Pern was born in Bluff, South Africa. It's no wonder that he has a love for the sea. He grew up in a coastal town, and so he hasn't really known anything else but the culture of a coastal environment. From what we've learned so far, he developed are for the sea from the time that he was very young.
3. Brian was into water sports
While growing up in a coastal community, Brian enjoyed a variety of water sports. He swam, played water polo and surfed as well. He was as comfortable in the water as he was on land. Even though he loved the water, yachting is something that is still relatively new for him. It's a lot different than playing water sports because it takes you far out into the sea where there is no land in sight.
4. He's been into yachting for four years
Brian de Saint Pern is a newcomer to the show but he's only been involved in yachting for about four years. There is no need to worry though. He's been referred to as a "natural fit" at sea, and he has already worked on vessels in the Mediterranean, so he has some experience under his belt. His goal is to go for another certification so he can rise to the station of First Mate/Officer for a charter yacht.
5. He has the body of Wolverine
We also learned that when Brian de Saint Pern takes off his shirt he has killer abs. The Captain and other members of the crew could not help but remark on his amazing physique. This is something that at least some of the viewers will have to look forward to, but we're not sure if he's going to be taking his shirt off in front of the cameras or not?
6. He is a dad
We also discovered that Brian de Saint Pern is a father. His little girl is named Micah, and she is 5 years old. He keeps in touch with her, although a job as a deckhand keeps him away from her for long periods of time. He shared that not a day goes by that he doesn't think of her, and he lets her know this on social media. Brian maintains that she's "the light in his life."
7. Yachting is a year round occupation for him
Brian spends a great deal of his time working. Because yachting is a job that requires being available for work 24 hours a day and 7 days a week, the days can mount up quickly. We discovered that he spends 128 days consecutively working without a day off in between. He shared that this long without a break can become mentally challenging. When it's time to go on leave, he gets a nice long break to see the people that he loves and to do the things that he enjoys.
8. de Saint Pern is a positive person
When you work a a deckhand it's important to maintain a positive attitude for a few different reasons. The time at work can become a challenge and sometimes it's exhausting and difficult to deal with. In addition to that, it's vital to always act professionally and to be courteous to the passengers onboard the vessel. He does a really good job by maintaining his composure and keeping a positive attitude.
9. He works out
You can tell by looking at Brian without his shirt on that he's physically active and that he works out. He stays active and healthy to stay in shape for the physical demands of his job, and the work that he does as a deckhand is physically demanding, but he does more on top of this. He truly enjoys lifting weights in the gym, paddleboarding and when he's not out at sea, he likes to skateboard.
10. He's embarking on a brand new adventure
Brian de Saint Pern is joining the cast of the reality television series "Below Deck" as a deckhand. This is a new experience as he has not yet been exposed to the world in a television series. This is something that is completely new for him and he will soon discover that the more popular he becomes, the less privacy he will enjoy. While some reality stars are able to stay under the radar, we think that the odds are against this happening with the handsome young deckhand with a vibrant personality. Of course, only time will tell where this show is going to carry him, or if it will have much impact upon his career at all. Viewers have high-expectations for the new season and we're all going to be getting to know him for the first time. We're reasonably sure that we'll be hearing more about him as the dramas ensue for Season 7.