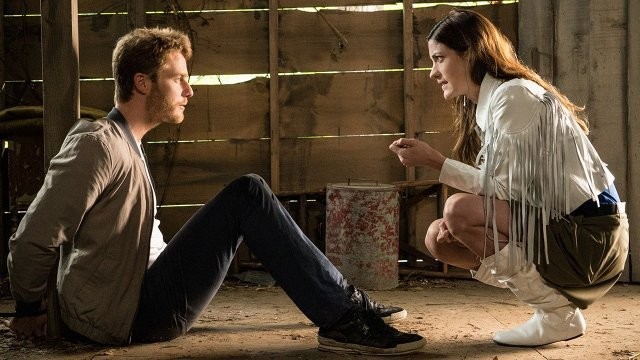 Every episode I feel like Brian's story, no matter the situation, is front and center and the other story is secondary. This time, however, Rebecca's story would have been plenty!
First, we meet up with Brian in St. Petersburg, Russia where he looking for Piper, the girl he let get away in the hopes of creating an enzyme to stop Morra and his use of NZT. He finds her in prison and, after some wheeling and dealing with Deputy Prosecutor General and George Martin, frees her but she need to steal one more thing before she can leave Russia for good. Apparently there's a radioactive seed not grown anywhere else in the world beside one man who preparing the apocalypse every day. They do a classic look over ploy by having Brian playing balalaika, an old fashioned guitar, while she stole the seeds. At first, I thought Piper left him (she almost did!) but then through some more dealing with Deputy Prosecutor General and George Martin she got him freed. Unfortunately she couldn't go back to the US but in next week's preview ring true, she going to be kidnapped!
In the other and far superior plot, Rebecca and her team are trying to track down Brian. I will say she doesn't too concerned for his well-being but maybe that's just got because and e-mail assuring her he's fine? It's the 'sad' emotion she can't pull off but I'll get to that in moment. She goes to see his family and her father goes off, saying how it's a waste a time doing what doing and can you guarantee his safe return. That made for one tense conversation! Then she asked for vacation time, saying that Brian was just a file to everyone and she knows him. Then, the episode ends with Rachel, Brian's sister, telling everything to Rebecca and her pulling Sand's picture, asking if he was the undercover agent. She says yes!! She sure can pull off a 'shocked' face.
Just a few points. There was a scene when Brian and Piper were getting ready for the ball and he says what if we don't use NZT anymore? I think they should have elaborated on this. What would life be like if he were NZT?
Also, in the same scene, Piper has to convince him to take the pill and she uses very Senator Morra-like ways to do it. Brian even makes a comment to her in the next scene. It's true. It's look like the apple doesn't fall far from the tree, whether the NZT or against.
Summary
In this episode, Brian takes a trip to Russia while Rebecca gets closer to finding who the undercover agent is.