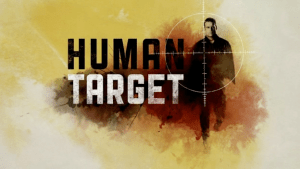 So I tuned into Human Target tonight for two reasons: one, to see some major ass-kicking, and two, to hear that beautiful score of Bear McCreary. It was one of the major selling points of the show to hear that brazen bass section calling Christopher Chance to action. It fit with the show, and it fit with the credits sequence. This new, terrible pop-rock theme that I was surprised to hear start off the sophomore season? not so much. To avoid mincing words, it sucked. Bear McCreary was nominated for an Emmy for the absolutely brilliant, rousing theme that began Human Target every episode last year (including the souped-up one for the finale), and new showrunner Matt Miller fired the guy because of "taste." Well, we can make one statement about Miller's musical taste: it's bad. The new theme hardly makes an impression at all; it's a sad shadow of the former theme, and left me deflated about the rest of the episode, regardless of Jackie Earle Haley's badassery.
Over at HitFix, some of the blog commenters were even less nice about it than I was.
"Worst change in theme music since Ed went from 'Next Year' to 'Moment in the Sun.' Gah!" exclaimed one commenter.
"I must say," began another, "I will probably use mute on my remote during the opening theme music so I can recall and remember last season's theme until someone changes it back. I do think it will be changed back as I feel I am among the majority of viewers that hated it just as I did. And, it appears most hated it even more than I did."
"Just like with Chuck, Tim Jones's horrible music takes you out of the action and out of the excitement," commented Matt Cafaro. "Seriously, Jones is not a talented composer, and his scoring doesn't highlight or enhance the action or the emotion (I'm sorry, that's right, Miller wants 'needle drops,' lame pop music to highlight the emotion) on screen."
Ouch! Sounds pretty unanimous to me.
McReary, meanwhile, spoke to TVOvermind earlier this year about being let go from the show: "Honestly, I have no idea [why I was let go]. I just know that I wasn't invited back. I could only speculate, but I wouldn't be any more informed than you. The reality is that songs are very expensive, and orchestral score is not. I would be very, very surprised if it was a purely budgetary reason. But I'm very happy with the work that [showrunner Jon]Steinberg and I did over the course of the first season." McCreary is also scoring The Walking Dead, for fans who want more Bear.
While we wait around patiently for someone over at FOX to regain their sensibilities (and Bear McCreary), let's take a look back at the old Human Target theme, back when it was good.