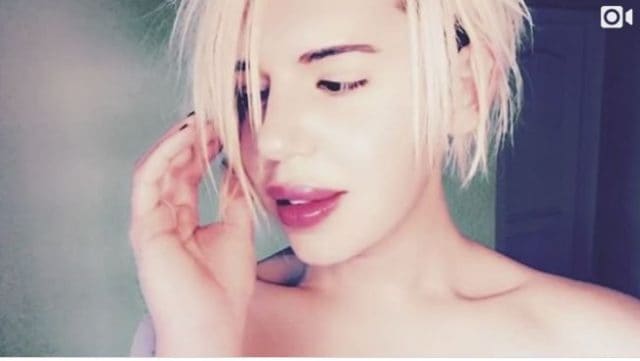 Every once in a while we run into a "Superfan" who is so enamored with a particular celebrity that they not only try to act like said celebrity, they do everything they can to look like them too.  In the last year there have been extreme examples of people spending small fortunes to look like Justin Bieber and Kim Kardashian West.  The latest victim?  This one's a 31-year-old guy from Los Angeles who wanted to look like none other than Britney Spears.  According to the Daily Mail
A Britney Spears obsessed man has spent over $80k on plastic surgery to look like his idol and stay eternally young. Bryan Ray, 31, from Los Angeles, California started emulating the 'Hit Me Baby, One More Time' singing superstar at 17, when he had veneers to match her smile. Since then he's had over 90 cosmetic procedures including a nose job, having fat injected into his cheeks, laser hair removal, lip fillers, Botox injections and more. As well as cosmetic procedures, he splashes out $500 a month on lotions to keep his skin looking youthful.
Here's a recent picture of Britney on Instagram.  How do you think Bryan did?
https://www.instagram.com/p/BO-PAjIg0Is/
80 grand?  Really?  $80,000?  I mean just say that out loud.  Eighty Thousand Dollars.  Can you imagine how many things in the world you can do for $80,000.  I cannot even fathom meeting the person who's one desire over anything else in the existence of the universe is to get surgery to look like Britney Spears.  Wow.
Save
Save