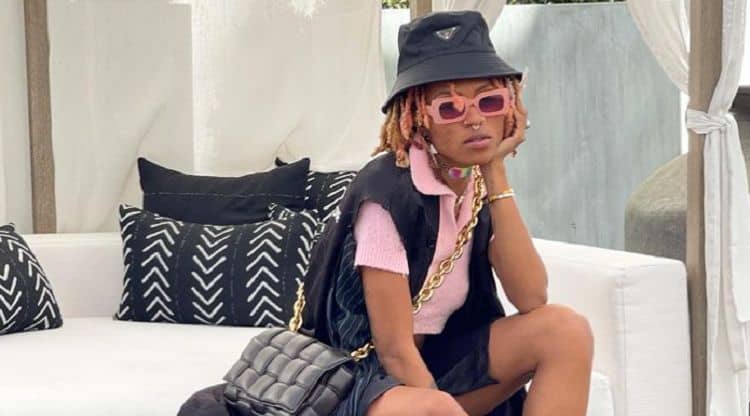 Brittany Byrd is most well-known for her relationship with rapper, Lil Uzi Vert. The two were together with Uzi made his rise to fame but have since gone their separate ways. Despite no longer being linked to a famous rapper, Brittany has managed to build a solid following of her own. Recently, she has been getting a lot of attention after her and Uzi's new girlfriend, JT from the City Girls, exchanged some comments via social media. While the relationship drama is still unfolding, Brittany is trying to stay unbothered and shift her focus to some of the other things she has going on in her life. Here are 10 things you didn't know about Brittany Byrd.
1. She Is Worked With Celebrities
In addition to being Lil Uzi's ex-girlfriend, Brittany was also his stylist at one point in time. However, Uzi isn't the only celebrity she's gotten the chance to work with. Brittany also worked with Lindsay Lohan. She started off as the actress's stylist and then became her personal assistant. For now, however, it appears that Brittany is focused on doing her own thing.
2. She Is An Entrepreneur
Brittany is widely known for creativity, but she also has the business mind to go along with it. She is the founder of  Byrd Museum where she sells various pieces of art she's creative. She also has another business called Lili Luxe Planet which is a plant store located inside the museum. Brittany also works as a "creative" for a modeling agency called Photogenics LA.
3. She Studied At Parsons
Brittany is originally from the West Coast, but she moved to New York City to attend college at Saint John's University where she studied business. However, she eventually realized that St. John's didn't offer the kind of environment she wanted to be in. She went on to study at Parsons School of Design which proved to be the perfect place for her to really express her creativity and improve her artistic skills.
4. She Loves To Travel
On top of having lived on both sides of the United States, Brittany has also gotten the chance to travel all over the world. While she and Uzi were together, she often accompanied him on tour. Even after their relationship, she has continued to travel extensively.
5. She Met Uzi Through A Mutual Friend
Even though Brittany and Uzi's relationship had lots of unusual moments, they actually got their start the way most couples do: through a mutual friend. After meeting, the two felt an instant connection. When discussing her bond with Uzi, Brittany told Paper Magazine, that they both gravitated towards the fact that they are "aliens".
6. She Is A Very Spiritual Person
Brittany has never discussed her specific religious beliefs and it doesn't appear that she is a religious person. However, spirituality plays a major role in Brittany's life and it's something that keeps her motivated and grounded. This was also something that she and Uzi shared.
7. She Loved Gwen Stefani When She Was Younger
If you were around in the early and mid-2000s then you remember when Gwen Stefani was that girl. During her interview with Paper Magazine, Brittany said, "Gwen Stefani was a really big point of influence for me growing up. "Hollaback Girl" was my favorite song in the fifth grade and it stuck with me forever. "
8. She Likes To Meditate
Due to her career and her connections within the entertainment industry, things in Brittany's life can get pretty hectic. That's probably become even truer after her recent back and forth with Uzi and JT. However, Brittany does her best to block out all of the negative noise in her life. She practices meditation regularly and it helps her stay focused on the positive.
9. She Is A Dog Mom
Anyone who has ever had a dog knows that it's one of the best experiences life has to offer. Nothing compares to the unconditional love that comes from a dog and fur babies really do become an important part of the family. Brittany appears to have two adorable French bulldogs and they've made a few appearances on her Instagram profile.
10. She Loves Japanese Culture
Brittany has always had an eye for fashion, and she particularly loves styles and designs that come from Japanese culture. Harajuku culture has been especially inspiring to her since she was a child. While talking to Paper Magazine she said, " I grew up watching anime, Spirited Away, Sailor Moon, Naruto. I live for juxtaposition and playing with different price points, silhouettes, and textures."