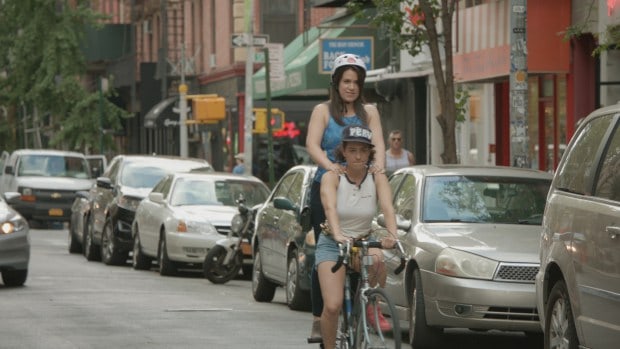 What more could we ask for from a Broad City premiere than a "walking around the city" episode? Be it "The Lookout", "Destination: Wedding", or "Wisdom Teeth", episodes where Ilana and Abbi are wandering around NY and experiencing its many quirks are among the best any television show had to offer – so when "Two Chainz" begins (after a hilarious, extended opening montage detailing the bathroom lives of our two stars) with the ladies leaving brunch and beginning to walk down the street, I couldn't have been more excited.
And f***, does "Two Chainz" deliver: it acts as both a welcome return of the series to the world, and a perfect introduction for anyone who wasted their lives for two years and never took the opportunity to watch this show. There's only one show on TV that can spend extended amounts of time in front of a port-a-potty or in a "warehouse sale" and still feel like its constantly moving, physically and comedically. Ilana and Abbi (and writers Lucia Aniello and Paul W. Downs) are relentless in their pursuit for the funniest jokes, and it shows in Broad City's consistent delivery of jokes, both throwaway and memorable alike.
Just think of how much color their adventures around the city bring to the world; the people they meet, the way they can turn a port-a-potty stop into an entire six minutes of hilarious television, the simultaneous pride and anger  with which the two approach modern ideals of femininity…. there isn't a moment of "Two Chainz" that doesn't feel on point, either in how it presents its main characters, or the prisms in which they view the world. It's not hard for anyone to poke fun at a pretentious art gallery opening, for example: but Broad City digs further than just having Abbi feel silly or worthless next to an artist. They dig into the pain of said artist, both ridiculing how ridiculously serious they approach their craft (Abbi's college friend drew a life-size thumbprint with the soft end of a feather, according to her) and how much it means to them, examining what it means for a successful artist to express unnecessary pride for being employed in front of artists who aren't – and in the case of Abbi, understanding why they feel so full of happiness and pretension when their difficult-to-achieve dreams finally come to life.
Most of all, I love how Broad City ridicules everyone from friendly dentists (Lincoln does some fake, assisted monkey bars "graduation" and insists Abbi and Ilana show up and watch) and angry strangers, right back to themselves. There are plenty of shows that poke fun at their main characters, but Broad City does it in such an endearing way, as if to say "yes, we're all a bunch of self-obsessed a**hats… so can't we just have fun with it?". It's the modesty that comes with the intelligence of Broad City that I love – like the closing scene, where Ilana's breasts prevent her from unlocking her own, self-recognized metal belt she (accidentally) wore in honor of the women who struggled before her. What better metaphorical image than her lying on her bed, her naked breasts bleeding down her body, to end the episode on?
It's not only funny, but it's darkly poignant, an observation on how useful/attractive/annoying/cumbersome being a woman can be, and how the fight for female equality can be hindered simply by the way one person looks. That kind of intelligent image is something no other show on television would offer (remember Jeremy's ShinJo?), and it's one of the many reasons Broad City is rightly discussed as being one of the definitive comedies in the current generation of television. "Two Chainz" is just another example of why it belongs in that discussion, and won't be leaving anytime soon.
Broad City Season 3 Episode 1 Review: "Two Chainz"
Summary
Broad City's back – and its as awesome as ever.