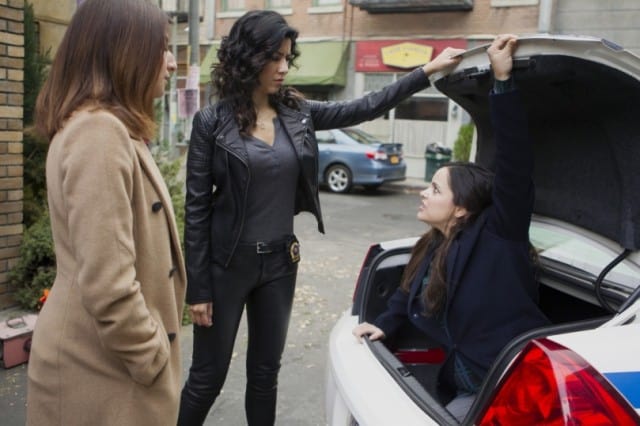 Hitchcock and Scully have always taken a back seat to all of the other detectives on Brooklyn Nine-Nine. That's all about to change in tonight's episode, when after having their work ethic insulted by Jake, the duo decides to prove him wrong. For one of the first times in the show's run, the pair will be featured as they force themselves onto a case Jake is working, intent on showing him just how competent they can be as detectives. While Hitchcock and Scully have been extremely entertaining in the small doses that we are treated to each week, it will be interesting to see how they fare in an episode that revolves around them. If done right, it could lead to a very funny episode.
Meanwhile, tonight's episode will also give us a glimpse into a slightly more vulnerable Rosa, as Amy and Gina help her conquer her greatest fear. Your guess is as good as mine as to what that could be. Watching these three ladies work together is always a delight and there's little doubt that they'll deliver tonight as well.
If that's not enough to look forward to, Holt and Charles (a rarely seen pairing on this show) will be joining forces tonight to work on a celebrity case. Never one to be especially good at keeping his cool, it'll be interesting to see how Charles reacts to this case as opposed to the usually very stoic Holt. All in all, this promises to be a fun episode of Brooklyn Nine-Nine.
To see how everything plays out, check out Brooklyn Nine-Nine on FOX at 9:00 pm/8:00 pm central.
[Photo via FOX]