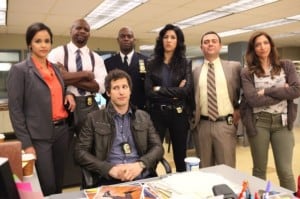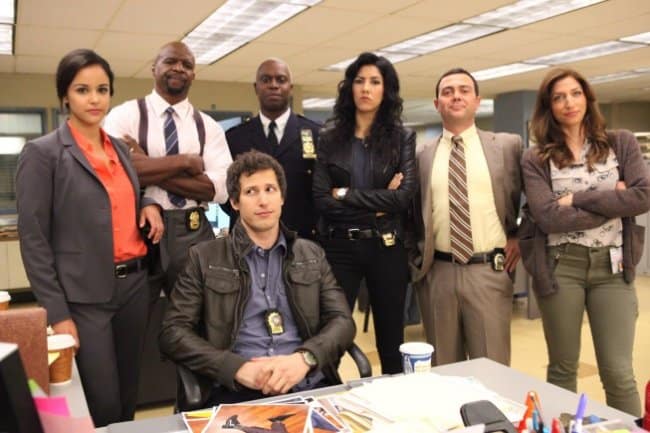 The writers/producers of Parks and Recreation are bringing the new comedy Brooklyn Nine-Nine to FOX this fall on Tuesday nights.
Starring SNL veteran Andy Samberg, Brooklyn Nine-Nine is a single-camera comedy that focuses on a "talented, but carefree" detective who gets saddled with a new captain.
"Detective Jake Peralta (Samberg) is a good enough cop that he's never had to work that hard or follow the rules too closely. Perhaps because he has the best arrest record among his colleagues, he's been enabled — if not indulged — throughout his entire career. That is, until the precinct gets a new commanding officer, Captain Ray Holt (Andre Braugher, "Men of a Certain Age," "Homicide: Life on the Street"), who reminds this hotshot cop to respect the badge. Jake may have collared more criminals, but Detective Amy Santiago (Melissa Fumero, "One Life to Live," "Gossip Girl") is close behind, and she's keenly aware of how many arrests she needs to close the gap. Amy grew up with seven brothers who were all cops. She's the first girl in the family to put on a police uniform, and suffice it to say: she's extremely competitive…about everything. Also working cases in Brooklyn's 99th precinct is Sergeant Terry Jeffords (Terry Crews, "Bridesmaids," "Everybody Hates Chris"), a linebacker of a man who's lost his nerve, not because he's a wimp, but because a year ago, his wife had twin baby girls — Cagney and Lacey — and he can't imagine not seeing them grow up. Detective Charles Boyle (Joe Lo Truglio, "Wreck-It Ralph," "Superbad"), who idolizes Jake, is the precinct's workhorse; he's not that brilliant, he's not physically gifted, but he tries harder than anyone else. Charles pines for Detective Rosa Diaz (Stephanie Beatriz, "Modern Family," "The Closer"), with whom he stands no chance at all. Rosa is simultaneously tough, sexy and scary as hell. She's vocally opinionated about everything. Cleaning up everyone's mess is Gina Linetti (Chelsea Peretti, "Parks and Recreation," "Kroll Show"), the eccentric, civilian office manager who somehow gets involved in everyone's business. Together, these tightly knit — or is it tightly wound? — cops interrogate suspects, arrest perps and solve murders."
Watch a trailer below for Brooklyn Nine-Nine, which will air on Tuesday nights at 8:30 p.m. ET/PT. You can check out FOX's 2013-2014 schedule here.
Follow Brooklyn Nine-Nine's Facebook and Twitter accounts.
[youtube=http://youtu.be/D1UzmW77F30&w=500&h=345]
http://www.youtube.com/watch?v=toedobkzsZw