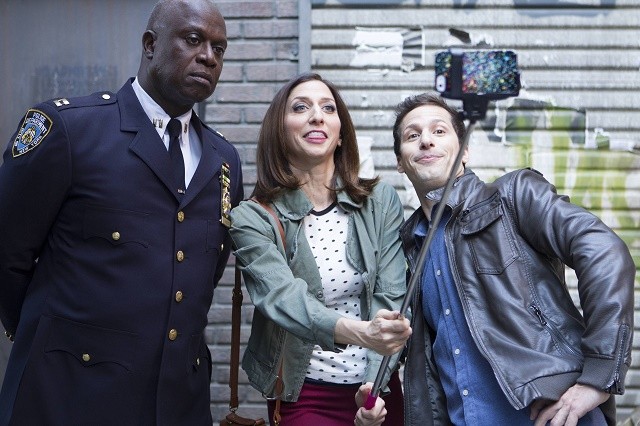 While this week's Brooklyn Nine-Nine may not have been the show's most humorous episode ever, it made up for it with interesting character moments and rare pairings. We were able to see Amy and Rosa, who do not interact nearly enough, come together and try to plan a birthday party for the Vulture. At the same time, we were also gifted a Terry/Boyle story, as Terry struggled with the stress of being a father on top of the responsibilities of his job. Meanwhile, Jake, Holt, and Gina worked a case together, bringing back an element of the show that hooked the audience from the start: Jake and Holt's relationship. All of this helped make an episode that was light on laughs but still highly enjoyable.
The Vulture's shtick at this point has started to get old, with his character being fairly stereotypical and one-dimensional, not bringing much to the table in terms of story or comedy. This week, he tasked Amy and Rosa with planning him a birthday party, a task that Amy, true to form, took very seriously. It's always fun to see these two women work together, as they're complete opposites from each other in how they view work. On one hand, we have Amy, who wants to impress whoever is in charge and gives her all one hundred percent of the time; on the other is Rosa, who frankly couldn't care less unless it was something she deemed important.
Throughout the episode, Amy struggled to plan the perfect party for the Vulture while Rosa threw out some half-hearted ideas. In the end, though, Amy was able to win Rosa's respect when her research yielded the discovery of the Vulture being in a band. Knowing that there's nothing the Vulture loves more than himself, they invited his band to play at his own birthday party. With everyone satisfied with this result, Amy once again proved that a little research can go a long way.
Another unlikely duo were paired together in this episode when Boyle gave Terry one of his favorite snacks, and Terry immediately became addicted. With the stress of having a third child on the way, Terry has not been dealing with everything going on in his life, and food was the perfect outlet for him. Like so many of us do, he started stress eating and immediately began gaining weight. It was Boyle who had to talk him down from this spiral and help him realize that there are better ways to deal with the stress. Since it's a friendship Brooklyn Nine-Nine doesn't often explore, it was nice seeing Boyle and Terry interact.
While the precinct was dealing with their problems of birthday parties and snacking, Jake was on the trail of a serial killer who had been at large for years: The Oolong Slayer. The only problem was that the Vulture had forbidden them from working any big cases, more concerned about quantity than quality. Not wanting to give this one up, Jake went behind the Vulture's back and got Holt and Gina involved as the three worked together to try to solve the case.
When Wunch and the Vulture found out what Jake and Holt were doing, after they erroneously tried to arrest the wrong person, all three were placed on suspension. This didn't stop Jake from continuing the investigation, even though Holt resisted. But as always, when Jake needed him most, Holt was there for him, and the two were able to take down the serial killer together. Holt insisted that Jake take all the credit for it, knowing that this was Jake's lifelong dream. For Holt, his only dream was to be captain of a precinct and he had failed. Showing just how much their friendship means to him, Jake willingly gave up all credit of making the arrest so that Holt could get his job as captain back.
From the very first episode of the series, the relationship between Holt and Jake has always been the most interesting one, as the two have unexpectedly grown to like and respect each other a lot. Seeing Jake, a relatively selfish character, so selflessly give up one of his dreams so that Holt could go back to living his, was a big moment for that relationship. As a character, Jake has grown so much over the past few seasons, and it's never more evident than when he does something like this. And from a storytelling perspective, it will be nice to have Holt and Gina back with the rest of the precinct where they belong, so while the episode may have been light on laughs, it more than made up for it with great character moments and fantastic storytelling.
[Photo credit: John P Fleenor/FOX]