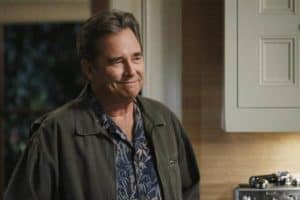 ABC will be airing a new episode of Brothers & Sisters tonight and Beau Bridges will be making a guest appearance. Below are three sneak peeks for tonight's episode, along with a synopsis:
ANOTHER LONG LOST LOVE RETURNS TO NORA'S LIFE, ON ABC'S "BROTHERS & SISTERS"
Academy and Emmy Award Winner Beau Bridges Guest Stars as Brody
Series Star Matthew Rhys Directs
"Brody" – Though Nora tries her best to keep Brody (guest starring Beau Bridges) at bay, she can't help but feel the long lost connection between them, and Justin reaches out to a homeless vet reluctant to accept help getting back on his feet, on "Brothers & Sisters," SUNDAY, FEBRUARY 20 (10:01-11:00 p.m., ET), on the ABC Television Network.
"Brothers & Sisters" stars Dave Annable as Justin Walker, Sally Field as Nora Holden, Calista Flockhart as Kitty Walker, Rachel Griffiths as Sarah Walker, Luke Macfarlane as Scotty Wandell, Gilles Marini as Luc Laurent, Matthew Rhys as Kevin Walker, Ron Rifkin as Saul Holden and Patricia Wettig as Holly Harper.
Guest starring are Balthazar Getty as Tommy Walker, Kerris Lilla Dorsey as Paige Whedon, Cara Buono as Rose, Beau Bridges as Nick Brody, Alice Evans as Dr. Felicity Milton and Pedro Pascal as Zach.
clarissa @ tvovermind.com
twitter.com/clarissa373
twitter.com/tvovermind