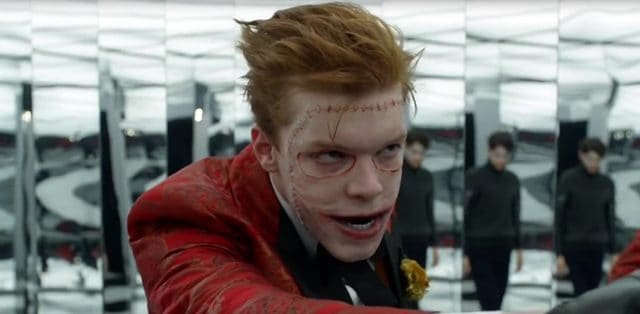 Just yesterday we talked about the importance of young talent on Gotham.  Most notably the performances of Cameron Monaghan as The Joker.    And with the season 3 finale of Gotham set to light up the screen, the Joker is coming out in full force.  Next week promises to be a major episode as Jerome kidnaps Bruce Wayne.  Other plot points in the episode include Gordon getting an unexpected visit from his Uncle as well as The Riddler and Penguin facing off.
While it looks like Jerome will be the highlight of this episode, do not write off anything involving The Penguin.  Robin Lord Taylor has become a Gotham favorite among fans so it'll be interesting to see whose screen time is the most exciting.  One thing we know is that The Joker will more than likely be putting on one heck of a show.  Here's a preview for next week's episode.
Here's a full synopsis from Fox
With Jerome (guest star Cameron Monaghan) on the loose with one target in mind, Bruce and Alfred's safety is compromised. Meanwhile, Gordon's uncle Frank (guest star James Remar) pays him a visit, and Nygma and Penguin are forced to confront their issues face-to-face, with possible deadly consequences in the all-new "Mad City: The Gentle Art of Making Enemies" winter finale episode of GOTHAM airing Monday, Jan. 30 (8:00-9:01 PM ET/PT) on FOX.