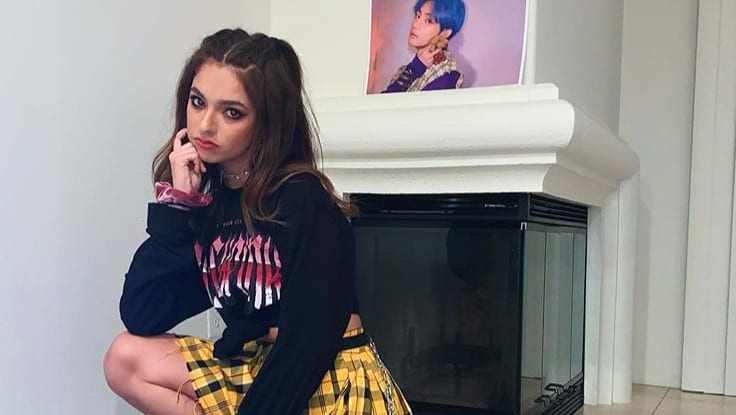 Bryana Salaz is an American actress and pop star who has graced the big screen and airwaves for some time now. She is famous for doing covers of hit songs and posting them on her YouTube channel. Her appearance in television shows has also increased her popularity. According to her Wikipedia profile, Bryana made her breakthrough into the spotlight back in 2014. Bryana was on NBC's "The Voice "reality show as a member of Gwen Stefani's team. She consequently made it to the top 20 in the competition. She claims she draws her inspiration from her "The Voice" coach Gwen Stefani, Beyonce, Christina Aguilera, and Whitney Houston. Here are several things about the young woman that you probably did not know.
1. Her personal and past life
Bryana Salaz was born in Orlando on August 25, 1997. Her father's name is Colonel Edward Salaz while there are no records of her mother's name. Owing to her father's military career, Bryana's family was always on the move after every two or three years. As such, she attended four schools by the time she was done with her high school education. It never crossed Salaz's mind that she would pursue a career in music; her passion was always playing soccer. However, her mother forced her into a military singing competition where she thrived and found her new passion. After her impressive performance, she earned other performances in other events in Hawaii. She performed in Martin Luther King Jr's event in Kapiolani Park, Don HO's Island Grill and also sang the National Anthem in front of a crowd of 10,000 people in a DARE program event. Her upsurge did not stop there; she went on to bag the first place award in the Lolani Talent Competition 2010 edition. The star also auditioned for America's Got Talent show back in 2011 but was eliminated in the Las Vegas Rounds.
2. She was a Member of the Sweet Suspense Band
Bryana Salaz joined the Sweet Suspense band on June 11, 2015, as a replacement for Celine Polengi. The group which had initially made a breakthrough through the famous X Factor show was on the rise and was on the verge of releasing a hit song. However, Bryana Salaz dropped out before the release of their intended single, "Money" to coin out a career in acting. Her exit caused instability in the group leaving its future at stake.
3. Her Movie and Television Appearances
Since 2014, Bryana Salaz has won roles in multiple television shows and movies. Some of her notable appearances are in several shows including the film "Joyful Noise" in 2012. Moreover, in 2015, she won a role in the "Urban Cowboy" movie, taking up the character of Anita. Bryana further appeared in the "Best Friend Whenever" the following year acting as Daisy. She claims that this was her best show ever. Salaz in the same year was also able to secure a role in the Movie "Bizaardvark" taking the character of Becky. Recently, in 2019 the celebrity has also won roles in several shows and movies. Bryana has featured in the series "The Lion Guard" assuming the character of Anga. Moreover, she is amongst the cast of the film, "Star vs. the Forces of Evil," where she acts as Teen Meteora. Most notable, however, is her recent appearance in the trending "Malibu" show. Bryana Salaz is also expected to star in the upcoming show, "Team Kaylie" where she will play the lead role of Kaylie.
4. She Lost her Friend to Murder
Bryana Salaz went through a grieving moment three years ago when her friend was murdered. According to Healthy Celebs, her friend and fellow contestant Christina Grimmie was killed in cold blood. Christina was coming from performing in a concert when she met her untimely death, causing Bryana Salaz to be overwhelmingly heartbroken.
5. Her Social Media Presence
Bryana Salaz is popular in social media with a lot of fans following her on her social media accounts. She currently boasts of about 294k followers on her Instagram account and another 59.6k on her Twitter account. Salaz uses these platforms to garner support for her projects as well as entertain her fans with beautiful photos and videos. She also endorses her client's brands through them.
6. She is a Model
Bryana Salaz is a successful model representing powerful brands. She has done brand endorsements for the several major brands which must be lucrative for her. In 2018, Salaz was one of the brand partners for Pepsi in the Latin Grammy Awards. She has also appeared in commercials for several video games, "Capri Sun," "Just Dance 4" and "Bop" for the toy games brand Hasbro.
7. She was a Sea World Performer
Before contesting at the career-defining "The Voice" show, Bryana Salaz was one of the performers at the Sea World Theme Park in San Antonio, Texas. It is from this stage that Gwen Stefani spotted her talent and advised her mother to sign her up for "The Voice."
8. Her Interests and Hobbies
Bryana Salaz loves to have a good time, as seen on her Instagram account. She loves dancing, acting, singing, and doing community service. Her favorite music genre is R&B hence her choice of artists. Furthermore, since her childhood, she has always loved soccer. She has also revealed that her favorite TV show is "13 Reasons Why" perhaps connecting with it due to her friend's murder.
9. Her Net Worth
The hotshot has earned immensely from her careers accumulating a lot of money. According to Celebstrendnow.com, the celebrity's net worth is estimated to range between $100k and $1 million as of 2019. However, this amount is bound to rapidly increase soon since her acting career is on the rise. Besides, with her musical talent, she might decide to give music a try and earn more.
10. Her Management and Representation
Bryana Salaz is represented and signed under several entities. She is represented legally by Stone, Genow, Christopher, Binder $ Smelkinson Legal Representatives for Beverly Hills. Furthermore, she is managed by Rare Global (Los Angeles), Jervis Talent Agent (Atlanta), Osbrink Talent Agency (Califonia) and Kim Dawson Talent Agency (Texas).