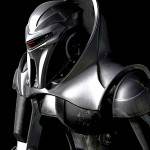 Have you been dying to watch Battlestar Galactica all along, but have resisted since you missed the first 3 seasons? Or perhaps you're like me and simply can't remember what the frak was happening on the show 6 months ago? Well, fear no more, the sci-fi channel has given what probably amounts to the best series recap I've ever seen, and it's all done in 13 minutes. Eat your heart out, LOST! It takes you an hour each season to do this kind of recap!
Battlestar Galactica returns with its final 10 episodes of season 4 (and the series) starting on January 16 at 10 PM (eastern). But fear not, producers have promised future tv movies of the show as well as a new prequel series, Caprica, starting in 2010.
note: Damon and Carlton, if you're reading this, I'm just kidding, please keep doing the recap shows, I like them.
Part 1: Seasons 1 thru 3 recapped.
[media id=11 width=628 height=340]
Part 2: Season 4 recapped.
[media id=12 width=628 height=340]