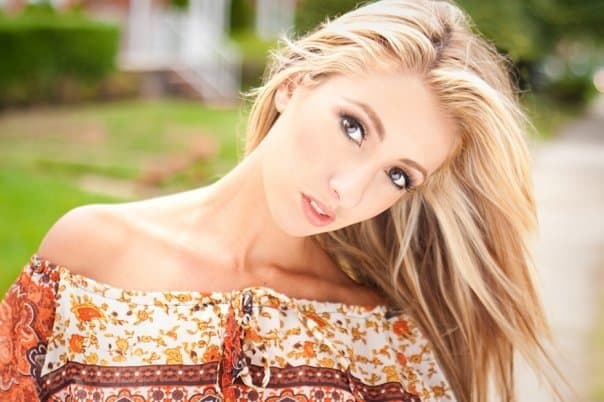 At just 25 years old Lauren Francesca has created a solid career. She's best known for her popular YouTube channel "iwantlauren". Lauren displays her talents for acting and comedy on social media and has also appeared as a guest star in film and television. She has worked as a model and appeared in non-nude photographs for Playboy. Lauren Francesca continues to be a social media sensation. Her natural beauty, comedic skills and relatability appeal to kids and young adults. Lauren's YouTube presence is hotter than ever.
Here are 5 things you didn't know about Lauren Francesca.
Early life
Lauren Francesca was born on May 2, 1992 in Queens, New York. Her parents, JoAnn Cifala and Fred Siretta, are Broadway actors and dancers so it's no wonder Lauren was drawn to performing. She showed her natural talent early on. At just 10 years old Lauren performed in "America Sings" at the Washington Monument in front of an audience of a half million people. She soon began a modeling career and appeared in advertising for AT &T, Microsoft, Lionsgate, Audible, Rock Star Games and more.
Rise to social media fame
Lauren quickly proved her acting and comedic skills and became popular on social media. She began appearing on the Barely Productions YouTube channel in character. Most notably she portrayed Lady Gaga in the "Key of Awesomeness" series. She portrayed other celebrities including Iggy Azalea. Lauren's character "Space Girl" appears in over 350 videos which have gone viral. Lauren found success on the CollegeHumor YouTube channel. Skits included "The six girls you'll date in college", "Xbox Gilrs Strike Back", and "POV: What every girl sees at a gynecologist appointment". Each received over 10 million views.
iwantlauren
Lauren Francesca has created a popular YouTube channel "iwantlauren" which became active in 2011. The show features comedy, Vlogs, beauty advice and more. The channel has 250,000 followers which Lauren calls her "Superteam" and has had over 27 million views. The show features regular appearances by social media stars Jason Hoten and The Aye Twinz. Celebrities Tiffany Pollard and Deep Roy who played the Oompa Loompa's in "Charlie and the Chocolate Factory" have made guest appearances. A regular guest who appears is George, Lauren's schnoodle dog. Lauren also has YouTube channel "SecretLifeOfLauren" which features daily vlogs, guests including friends and fellow YouTubers, film trailers and beauty products.
Film and Television
Proving herself a talented actress, Lauren Francesca has appeared in film and television. She played Mia I the horror film "Muck", and she played Jules in the comedy "#LuckyNumber". Lauren appeared on a 2 part episode of Louie C.K.'s "Louie" in the episodes titled "Daddy's Girlfriend". She has also appeared on "Fatal Encounters" and "The Daily Show With Jon Stewart".
Playboy
Lauren has been featured in Playboy in non nude photographs. Playboy named her one of its "Top 10 Hottest YouTubers" in 2015. Lauren recently filmed a video special for Playboy. In the video production she appeared at San Diego's Comic Con dressed as her alter ego Space Girl and getting people's reactions. Lauren has a knack for relating to kids and young adults and continues to build her popular career.
In addition to these facts, here are 10 that Lauren herself shared with us via email:
1. Has a premed/ biology degree
2. graduated Magma Cum Laude
3. favorite color is purple
4. is left handed
5. loves to take vitamins every day
6. loves massage
7. loves to garden
8. favorite meal that she can't live without is breakfast
9. loves the rain
10. Best friend is from Poland