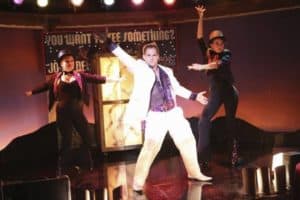 A lot was made of Michelle's dramatic expulsion from Paradise on the summer finale of Bunheads. The former showgirl came to a crossroads that she had been avoiding for a while (who is she without dance?), the parents in town showed how deep their dislike of Michelle ran following the performance accident, and the Paradise Dance Academy lost 50% of its staff once she quit and subsequently left town. Arguably, the biggest impact was felt by the bunheads, who sent their teacher off with an impromptu performance of O Captain, My Captain in the previous finale. Where are they when the show premieres its next half-season of 10 episodes, set some time after the Christmas incident?
Frankly, each of the girls is adrift right now without the academy in their life; following the closure of their second home due to parent outrage and Fanny not having anyone to teach what pupils did stay around, the dancers split into four different paths, seemingly biding their time until they can slip back into their leotards. While Melanie and Boo have been taking care of their families, an ailing grandfather and a pregnant mother respectively, Sasha has returned from her summer at Joffrey and is doing everything in her power to avoid going home to face her parents.
Meanwhile, Ginny's embracing her seemingly predestined path toward becoming her mother by taking over her real estate business. Now that they have free time and a chance to come up for air after being so heavily involved in dancing, it's no wonder that the girls get a little restless; they don't know life away from the dance floor, but until Michelle comes home and atones for her accidental macing of the Paradise students, they're going to have to face life without their former first love.
The winter premiere of Bunheads airs tonight at 9:00 on ABC Family. You can check out two sneak peeks of the episode here. In addition, be sure to click on the arrows above to view the episode photos.
How long do you think it will be before the academy is reopened by Fanny? Can Michelle ever be happy doing something not related to dance? Which of the girls would benefit most by continuing to dance?