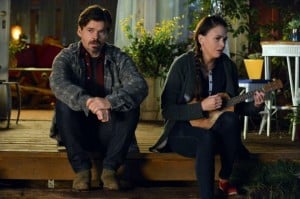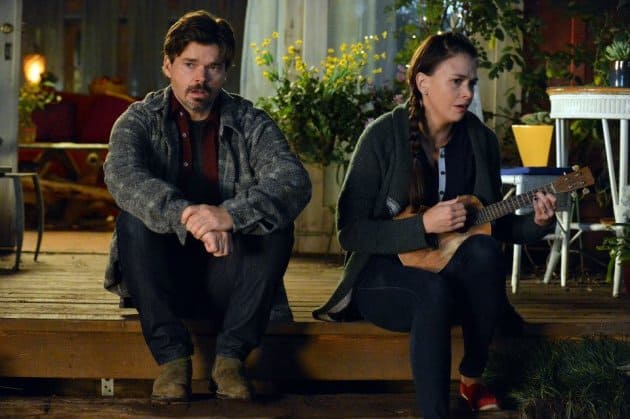 Michelle's directionless brother Scotty has come to town and interrupts her night with Godot by waiting outside her home for her to come by. He had been on the way to Madison and fell in love with a redheaded hostess who didn't speak much English, making her his fourth wife before skipping out during the reception. He did, however, manage to bring Michelle some wedding cake to compensate for the fact that he'll have to crash at her place until he can get on his feet. For a while, the two get along, Michelle bringing him around the Oyster Bar to meet Godot, reminiscing over the old family record player (and her long-lost ukulele that he found and brought back), and talking to him about where his life could go in the near future.
Unfortunately, he makes it a point to go to one of her classes and completely undermines her in front of the students, telling them a story of Michelle hating her ballet teacher when she was young and plotting to cut part of the studio floor out in order to build a trap door and injure her. Granted, she tried to do that with safety scissors, but still, it didn't exactly make her look great in front of a group of kids that she needs to be respected by. This, combined with his insatiable search for his fifth wife, are all that Michelle can handle and late one night while cleaning up the dressing room, she confronts him over the story.
The ukulele wasn't lost but withheld from Michelle, while the two exchange barbs related to the other's perceived lack of responsibility, their relationships with their mother (who Michelle, not having talked to her for 12 years, thinks he's trying to marry), and Michelle's hurt that he failed to get her to finish high school like a big brother should. Before leaving the studio, she tells him what Fanny told her; you make your own family and your own destiny. Her life has changed and she knows she can be something more than who she has been.
Later, the two do a duet outside, accompanied only by the ukulele.
Baby, Baby, Baby
While at practice with Jordan, who has become increasingly strict with regards to his expectations, Boo receives a phone call from her mother that the TV fell over and that there's no sign of Lonnie – yet. Carl has been helping her with the child care while her mother is bed-ridden, taking the "family" to The Oyster Bar for dinner, but he and Boo have been growing distant as a result. After he's late in picking them up so that she could go to ballet unimpeded, tension between the two continues to simmering, boiling over when Boo needs him to take the kids again on a day when he planned to go to the gym. He begrudgingly takes them, though he sternly reminds her that they're not their children.
Hit Me
Melanie is slowly ingratiating herself into the roller derby lifestyle, blowing off ballet (and Ginny) in the process. For two days, she merely watched the carnage from the sidelines, but eventually, she had to strap on some pads and get out onto the track to try it out. Not before she lied to Ginny about going on college tours with her father and about her phone being turned off as the reason for the sudden drop-off in their communication, though. Ginny is going through difficulties at home with her mother Claire becoming more obsessed with the impending marriage of her ex-husband to Faye and the rivalry between the two women, including Faye choosing a box-y bridesmaids dress for Ginny; Ginny's boobs remind Faye of Claire's boobs and there can be no reminder of Claire on the wedding day, hence the unflattering dress.

After taking the proper precautions, including removing her necklace, Melanie gets out onto the track and knocked down – and loves it. However, she had promised Ginny to go to Faye's (early) wedding photo shoot (on a trampoline!) with her to help break up the tension and with the Derby Dolls in full swing, she breaks her word to her friend. As a result, Ginny comes to the arena covered in punch that her mother had thrown on everyone and brokenhearted that Melanie wasn't there for her when she needed her. Before leaving (and despite Melanie telling her about the pressure from home regarding college), she confronts Cozette who, along with Frankie, is in charge of DJ-ing the Dolls' practices and meets, informing her that Melanie is her friend and it's always going to be the four of them (Ginny, Melanie, Boo, Sasha) and not her.
Additional thoughts and observations:
-"Can you do a gay marine?" That's actually a drink.
-"I talk, therefore I am."
-"Well, if the creepy psychological profile fits…"
-My biggest (and I think only) laugh came from Michelle's "Who brings their brother everywhere they go? Oh, hi, Scotty."
-Melanie's roller derby name, courtesy of Cozette, is Cleo-Smacktra. Mine? Sally Von DaJammer.
-I liked how the show made fun of Eddie Vedder's ukulele album and then ended on a duet featured on said album.
-Michelle and Godot are on good terms and she even managed to read his thesis. Of course, she only understood 1/10 of it, but it's still a nice gesture.
-The Margaret O'Brien movie that was referenced is 1947's The Unfinished Dance. Here's a clip.
-I didn't care for the whole "Jordan is a slave driver and Boo turns into a mother figure to set him straight" thing. Nor do I like that this was another week with only 3 bunheads, as Sasha was away buying an apartment (!) in a building that her aunt owns. Budget, I know, but still.
-How do Frankie and Cozette have time to DJ, learn languages, dance, play instruments, practice martial arts, go to school, do homework, and sleep?
-Next week on Bunheads: Milly and Fanny clash over an upcoming dance recital, while Sasha has a party at her apartment and Scotty takes an epiphanic road trip.