[FLOWPLAYER=http://www.tvovermind.com/wp-content/uploads/2013/02/bun-106.jpg|http://www.tvovermind.com/wp-content/uploads/2013/02/BUN-116-Clip1.flv,440,280]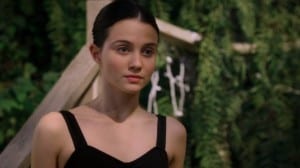 Sasha has had to do a lot of growing up on her own, as her parents emotionally abandoned her for years before recently physically abandoning her and leaving her to build a life from scratch. While she managed to get her apartment furnished and livable last week on Bunheads, she's still feeling fragile from the drastic change in lifestyle; moving out on your own can be tough at any age, but Sasha's a teenager alone and having to go to balance every element of her decidedly hectic life.
On the next episode of Bunheads, Sasha has another worry to add to the list in Roman wanting to go public as a couple. The two managed to make up after having an argument over their lack of communication and the resulting lack of time spent together, but this is a big step for any couple. On one hand, Sasha could use any and every ounce of stability after what she's been through and Roman obviously cares about her enough to stick around through her hardheadedness; on the other, she might not be ready for that type of commitment and it could become more of a stressor than a positive influence. Plus, Sasha's never been the most outwardly affectionate person in the world and after the ordeal with her parents, she might've closed off too much for a relationship to be feasible at this point in time.
Elsewhere on Bunheads, Milly gets upset when the local town preservation society gets involved with the amphitheater/performance center, while Ginny contemplates trying out for the spring recital and Talia informs Michelle that she'll not only be visiting, she's bringing big news to share.
Bunheads airs Mondays at 9:00 on ABC Family. You can check out a recap of the most recent episode here, as well as photos from the next episode here.
Will Sasha find going public with Roman too uncomfortable to handle? Is Ginny serious about trying out for the spring recital? What news will Talia bring to Paradise?