[FLOWPLAYER=http://www.tvovermind.com/wp-content/uploads/2013/02/bun-107-copy.jpg|http://www.tvovermind.com/wp-content/uploads/2013/02/BUN-107-Clip1.flv,440,280]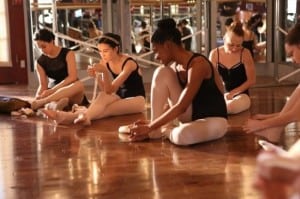 Paradise has seemed like exactly that for much of Bunheads. The sleepy coastal California town is seemingly held within a bubble where nothing bad can ever get in and the air is constantly filled with witty pop culture references, which made it the ideal place for Michelle to start her life over again after leaving Vegas and losing Hubbell. Paradise provides the type of protection that the former showgirl never had before and has allowed her to get in touch with her love for performing, but what if it all were to go away? What if there was no Paradise?
On the penultimate episode of this season of Bunheads, there's a fire heading toward town and the dance studio is one of two evacuation centers. If that wasn't enough, Michelle has been named one of the "center captains," meaning that she's in charge of the welfare of half the town that still struggles to accept her. It's often a struggle for her to keep order in her small dance classes, so having to become the authority figure to more than just a gaggle of pre-teen/teenage girls will be a major test for how far Michelle's come in her time in Paradise. Fanny not being around provides her with an opportunity to take charge and show what she can do, but the only question is: will she do it?
Elsewhere on Bunheads, Talia is preparing for her quickie wedding to Rick and decides on her maid of honor, while Sasha's apartment has a break-in, Melanie's being stalked, Boo's caught in an unintentional triangle, and Ginny's eyes can't seem to leave Frankie.
Bunheads airs Mondays at 9:00 on ABC Family. You can check out a recap of the most recent episode here.
How will Michelle handle being in charge of half the residents of Paradise at the shelter? Will Talia's wedding and decision to hang up her dancing shoes have an impact on Michelle's career direction? Does Sasha's reaction to the break-in mean that she trusts Roman?