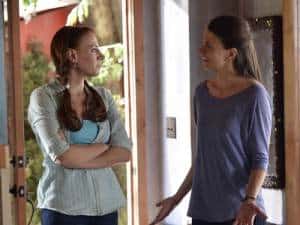 After years of training, the girls of Fanny's dance class have their auditions for the Joffrey summer program coming up rather quickly. Although it should be a time of excitement and anticipation, it's instead about nerves and renovations, judging by the sneak peeks for the next episode of Bunheads. Boo has to try to convince her mother that her audition is the best decision and failure won't break her like it did last year; we've seen that she's an extremely sensitive girl with lingering insecurities, but her renewed sense of confidence and purpose may make the difference this year.
That is, if the auditions can even be held at the studio, since Joffrey themselves point to the improper floor as reason for their non-cancellation cancellation. With Hubbell and his handyman skills not available to help, it looks like it'll be up to Michelle and Fanny to bring the studio up to par so the girls will have a chance this year. Considering they haven't truly gotten over their awkward living situation and tragic past, working together on something as pivotal as this could do one of two things. There could be more of a bond established between the women, their love for dance and hopes for the dancers outweighing everything else, or the rift that's taken place could get the best of them and block them from success. Fanny may not particularly care for Michelle, but she wants the most for her students and her recent passive aggression may (finally) be put on the backburner until after the auditions, if only to get the studio ready.
Bunheads airs Monday at 9:00 on ABC Family. You can check out my review of the most recent episode here, as well as spoilers for upcoming episodes here.
Do you think any of the four girls will make it into the Joffrey program? Will the studio be fixed in time for the auditions? Can Fanny and Michelle work together long enough to get the floor in shape?
[jwplayer mediaid="151882″]
[jwplayer mediaid="151883″]
[jwplayer mediaid="151884″]