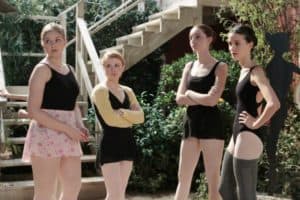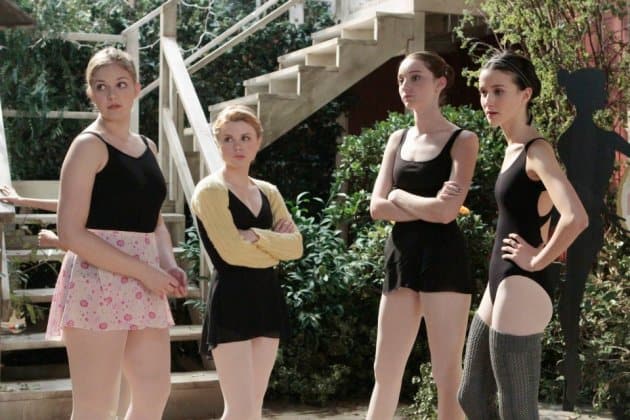 Although Melanie, Boo, Ginny, and Sasha all care about one another, there's a certain part of them that wants to be the best, to stand out from the other dancers at the academy and get their shine. That competitive attitude comes with spending so many hours (and years) on the dance floor, a natural addition to any athlete's psyche, but it's always lingering in their interactions with one another. However, on the next episode of Bunheads, it looks like the four girls will have to band together against two new arrivals in Paradise.
Cosette and Frankie are freakishly talented siblings who recently moved to town, seemingly hell-bent on intimidating everyone in their path. While Frankie plays multiple instruments, Cosette speaks several languages and shows an affinity for dance, with the both of them changing outfits multiple times throughout the school day. The bunheads are used to being the big fish in the small Paradise pond, people who are known for their talent and destined for bigger and better, but if the new kids in town are any indication, they'll have to work that much harder to keep their positions.
Elsewhere on Bunheads, Talia sets Michelle up on a blind date with a friend of her older boyfriend Rick, while Boo confides in Michelle over Carl wanting her to meet his parents, Sasha gets caught using the studio to meet up with Roman, and Truly needs Michelle to help her straighten out problems with her landlord.
Bunheads airs Mondays at 9:00 on ABC Family. You can check out a recap of the winter premiere here.
Are you happy to have Michelle back in town after the winter premiere? Should she be open to dating right now, even if it is with old men from Henderson? Will the arrival of Cosette and Frankie in Paradise intimidate the girls?
http://www.youtube.com/watch?v=2FBKx750tsc
http://www.youtube.com/watch?v=8BrbCIjmWI0
http://www.youtube.com/watch?v=ZnK0EOyPeF8