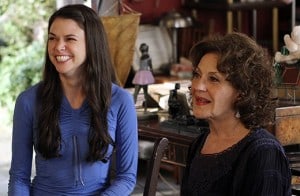 When Michelle walked out of the hospital at the end of the Bunheads summer finale, you didn't know when she'd be coming back to Paradise. The accident that she caused at the Christmas performance (and the parental outrage that followed) spelled her doom as a dance instructor at the academy, so without that to anchor her new life, she didn't have a reason to hang around anymore. If she stayed, Fanny would have never let her forget what she did and there'd be no way for her to get another job without constantly being reminded of it. However, when Michelle discovers that life outside of Paradise for an "aging" dancer isn't exactly, well, paradise, will she be forced to return to the place she thought she left behind?
Listed below is the date, (awesome) episode title, and episode description for the second episode of Bunheads' winter season.
Monday, January 14th – "Channing Tatum is a Fine Actor"
Michelle tries to help Truly negotiate her lease after she is evicted from her shop. Boo asks for Michelle's advice when Carl insists that she meet his parents. Meanwhile, Michelle is skeptical when Talia sets her up on a blind date with her older boyfriend's friend, and the girls are intrigued by the multi-talented new kids in town (guest stars Jeanine Mason of So You Think You Can Dance and Niko Pepaj).
From the episode description, it looks like Michelle won't find the life of a magician's assistant to be fulfilling and returns to Paradise by the next episode, very delicately working her way back into her former routine. There's no dance academy for her to come back to and it's unclear when she'll have to face Fanny, but all Truly wants to do is be her friend and the girls made their feelings known about her in the finale, so for the time being, Michelle's welcome home reception will be fairly warm.
The winter premiere of Bunheads airs Monday, January 7th at 9:00 on ABC Family. You can check out the episode description for the premiere here, as well as two sneak peeks here.
Can Truly find a way to hang on to her shop? Will Michelle finally be ready to date again and open herself up to another guy? How will the new kids mesh with the bunheads?
http://www.youtube.com/watch?v=mdMw1bgG2Es