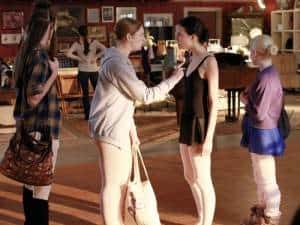 The lives of the residents of Paradise, California were undoubtedly rocked by the passing of Hubbell Flowers. Such a small community has to have that invariable closeness that makes each departure, unexpected or otherwise, that much more difficult to deal with. For Bunheads as a whole, the death of Michelle's husband brought about a lot of uncertainty. How would the show handle the loss of the man that brought Michelle from Vegas to California in the search for a more peaceful life?
In the second episode of Bunheads, titled "For Fanny", the focus is on both acting and reacting, as everyone seems to be thrown for a loop but has to maintain normalcy or go into planning mode. Michelle and Fanny have to try and come together to make the next few days as smooth as possible, but they can't quite seem to gel. Fanny's Buddhist teachings have her wanting Hubbell's memorial to be a jovial, celebratory atmosphere, which Michelle is a bit leery of, and she goes out of her way to comfort Truly to the point that it makes Michelle uncomfortable. With Michelle staying in Paradise (otherwise there'd be no show), the two are going to have to learn to bend so that neither of them break thanks to their recent trauma.
Meanwhile, the girls have decidedly different reactions to Hubbell's passing. Boo, sensitive as ever, takes the news the hardest, while Sasha either doesn't care (likely) or wants to act like she doesn't care to protect her apathetic image (also likely). They may not have been as close to Hubbell as Michelle or Fanny were, but they had enough familiarity with him that the news will have an effect on them going forward, either personally or through their interactions with the other women. Hubbell may have been around Bunheads for only one episode, but his death will linger for a time to come.
Bunheads airs Mondays at 9:00 on ABC Family. You can check out my review of the pilot here and (light) spoilers from the next two episodes here.
[jwplayer mediaid="149853″]
[jwplayer mediaid="149854″]
[jwplayer mediaid="149855″]