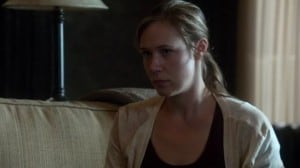 Paris Geller is heading to Paradise…at least for one episode.
According to TVLine, Gilmore Girls alum Liza Weil will be appearing on an episode of Bunheads this January. Weil, known for her role as Rory Gilmore's frenemy Paris Geller on the WB/CW dramedy, has been tapped to play Truly's sister Milly on the January 14th episode of Bunheads; Milly and Truly don't get along, however, which means that there'll be an extra dose of tension and unease lingering around the Paradise Dance Academy. Truly's already rather high-strung and brimming with anxiety during most of her time on screen, so adding in a sister that doesn't like her can only make things worse, at least temporarily.
On the other hand, having Milly come in for only one episode might be a sign that the two will be patching things up, at least temporarily. They're obviously not going to be able to work through decades of issues within what little time Milly will be there, but the episode might get them off on the right foot with enough progress that coming to a truce might become a feasible goal.
In addition to her role on Gilmore Girls, Weil has appeared on the likes of Scandal, Anyone But Me, and In Plain Sight. The first 10 episodes of Bunheads, all of which aired this past summer, featured a number of former Gilmore Girls players, including Chris Eigeman, Sean Gunn, and Todd Lowe, with Kelly Bishop a member of the main cast.
Bunheads returns for the second half of its first season on Monday, January 7th at 9:00 following the season premiere of Switched at Birth. You can check out the entire ABC Family winter schedule here, as well as a review of the Bunheads summer finale here.
Are there any other Gilmore Girls alumni that you'd like to see make the trip to Paradise? What do you hope happens in the remaining episodes of Bunheads' first season? Where do you think Bunheads goes following its summer finale?