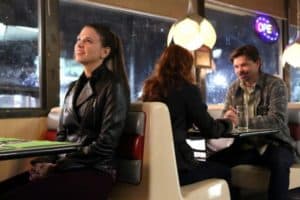 Michelle has never had a good relationship with her mother and it seemed like the two would be content with never reconnecting. It had already been 12 years since they've had a conversation, so considering the emotional scars that Michelle has from her time in the household, she had already divorced herself enough from the situation that she'd never agree to a reunion. Though she might be a basket case at times, Michelle has made it on her own without her mother and putting herself back into the position of being a daughter would set her back and could potentially lead to more resentment toward her mother. But what happens when Scotty pulls a scheme to get the two together on the next episode of Bunheads?
Typically when Scotty and Michelle get together for a few days of hanging out and catching up, their time ends with one final blowout and/or road trip, a way to punctuate yet another experience together. While the two reminisce about trips they took as children, which turn out to have been faked by their mother, Scotty finds a way to trick Michelle into letting him pick their activity this time around. He takes her to a diner where their mother sits in an attempt to make them patch things up once and for all. Will Michelle forgive her mother for not being there for her and permanently heal the wounds that have been on her psyche since childhood?
Elsewhere on Bunheads, Sasha has picked up a job at the local grocery store and invites the girls to her housewarming party, while Milly and Fanny clash over how to handle an upcoming dance recital. Will Fanny regret allowing Truly's sister in her professional life?
Bunheads airs Mondays at 9:00 on ABC Family. You can check out a recap of the most recent episode here. Be sure to click the arrows above to get a look at photos from the next episode.
Will Sasha be able to live on her own, work, go to school, and continue dancing at the academy? How will Michelle react to coming face-to-face with her mother for the first time in 12 years? Can she and Scotty leave on a good note after he tricked her into going to talk to their mother?